The New Art Walk Season is here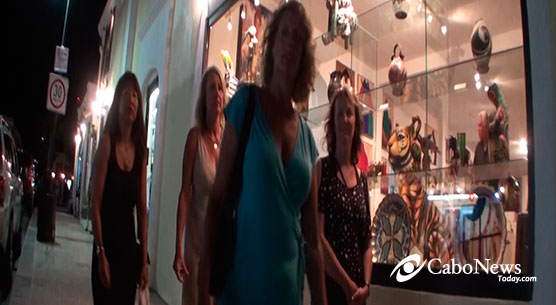 After a warm and rainy summer, all the galleries of the Art District are ready to start with our new season of Art Walks! The Art Walk in San Jose del Cabo is a popular weekly event. Every Thursdayevening between the months of November and June, the galleries welcome guests to enjoy an evening strolling the neighborhood, viewing art, sipping wine and dining at the fabulous neighborhood restaurants. All who participate are open from 5pm-9pm and often certain galleries will have special events such as "artist in attendance" or openings of new work. It is a great night to come downtown and enjoy what our district has to offer.
Tourists: "We love to experience the joy of Halloween but we also cross over to the Day of the Dead. We got married on the Day of the Dead here in Cabo. It's very special to us! We always dress up as Catrina and Catrin. The art walk is just full of lots of beautiful things…"
President of the Centro Historico Blanca Pedrin: "This is great! It's the beginning of the season for the Art Walk in the Art District of San José del Cabo. Also tonight is the celebration of the Day of the Dead. What a great way to start the new Art Walk season! Many restaurant openings are tonight, like the "Hay Hay Hay" grand opening that belongs to our dear friend Tony Magdaleno. We invite everyone to come and visit the karaoke bar and restaurant.
"Hay Hay Hay" owner Tony Magdaleno: "It's a fun bar, grill, and karaoke restaurant. One of the things that you will find here is that the kitchen will stay open until the bar closes. You can enjoy good food, singing, dancing, and drinks. We will be open on the weekends until 5:00 am and on the weekdays until 3 am."