Press Conference for Patricia Mendoza's new gallery in The Art District of San Jose del Cabo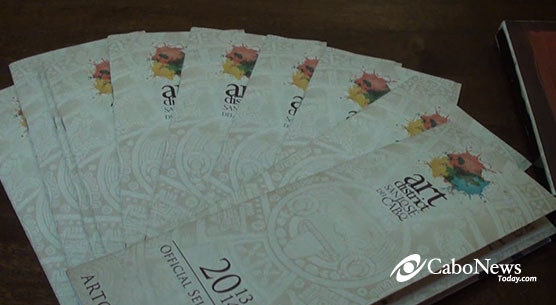 This Past Monday October 21st the Art District Association in Representation by its President Patricia Mendoza and Secretary Cinthya Castro announced to the local media the Opening Event that will be celebrated on the October 31st outside the Sacristia Art Gallery. Those in attendance will include local authorities such as the Mayor of San Jose del Cabo Antonio Agundez, Secretary of Tourism Alejandra Cota and Secretary of Culture Beatriz Hernandez.
Also presented to the local media was the New Art District Guide for the Season 2013-2014, which is showing a new design including 2 maps, one of which is a map showing all the galleries that are members of the Association and the recommended best restaurants of the area. The guide includes a new map that will help the visitors staying in the different resorts in Los Cabos to easily find the Art District.
Owner and Organizer of the art gallery and Art District Patricia Mendoza: …"The reason we are all here is first to thank you for all of the support you have shown the Art District here in San Jose del Cabo. Second, we would like to show you our new brochure. We are now unpacking all of the new pieces that will be available for next week's event to kick off the art walk here in San Jose. It goes fromOctober 31st to November 2nd.