Chef Richard Sandoval opened La Biblioteca del Tequila in the Breathless Hotel in Cabo San Lucas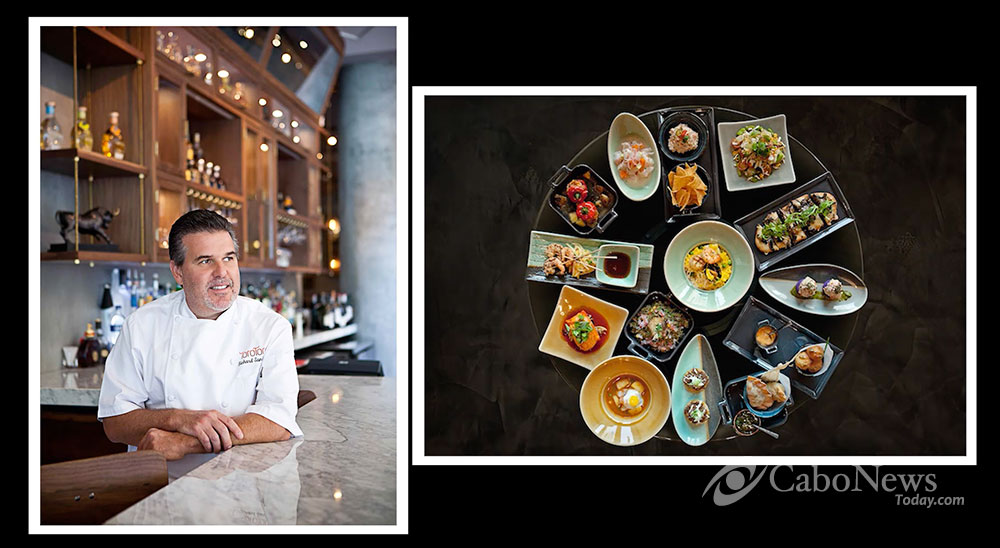 The restaurant La Biblioteca de Tequila /The Tequila Library) was officially inaugurated by the international and renowned chef Richard Sandoval. The new restaurant of Breathless Cabo San Lucas, located inside the hotel in the area of the Marina.
Richard Sandoval is known as the "father of modern Mexican cuisine" in the gastronomic world. The library is the second restaurant opening in Cabo San Lucas, adding to Toro, located in Punta Ballena, in the Los Cabos Corridor and since its opening has been reference of the culinary excellence. For the ribbon cutting, was accompanied by Mexican chef: René Malacara, Breathless General Manager, Mauricio Martínez, area manager for AM Resorts and Fabián Martínez, General Manager of the restaurant.
The restaurant has one of the largest collections of tequilas, mezcals and spirits of agave, with over 150 to choose from. The concept is reinforced with decoration, For the menu, Richard Sandoval returned to their culinary roots, to present to the world the authentic flavors of Mexican cuisine, traditional dishes with which he grew up.
The library of Tequila Cape is the third restaurant of its kind, after being a success in New York and Colorado. It is also as culinary center number 41 of the Group Richard Sandoval Restaurants, whose different concepts are found in cities such as California, Nevada, Colorado, Florida, Washington and New York, in the United States, as well as Hong Kong, Tokyo, Qatar, Dubai, Serbia, Mexico, to name a few.
The cuisine of Sandoval has been born different techniques and concepts such as the "modern Mexican", "Latino-asiático" and the "Pan-American". This diversity made him creditor recently as one of the "25 best companies multiconcept". In Mexico are: Bay, Punta Mita; Breezes, the lagoon and the port in Riviera Maya; and bull and Tequila library, in Cabo San Lucas.