The Sabor a Cabo 9th annual food and wine festival came to an end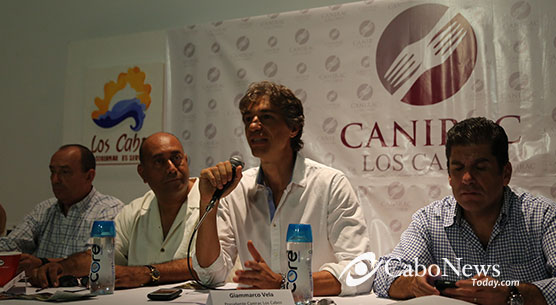 The gala event took place on December 6th from 5pm 11pm and was held at one of the destination's most spectacular areas, the Sculpture Garden in Puerto Los Cabos. The event had over 40 participating restaurants and local bars, over 2,000 attendees, the representatives of various wine houses, internationally renowned chefs, live jazz music, the founders of the famous rock band KISS, and a concert held by the Chilean rock band La Ley.

Guests from around the world gathered to dine and dance beneath the stars and enjoy the best of the best of international cuisine and wine. Gene Simmons KISS Many unexpected things happened, but everything is fine now, even with the Hurricane. No problem, I tell you that Cabo is just beginning, and that is why we believe in Cabo."

Paul Stanley KISS: To say that Los Cabos is unstoppable is true, you know? You can't stop it!

Beto Cuevas La Ley: I love Los Cabos, today I was at the beach, it is very nice, people also are very friendly. We are here to support Los Cabos and hope to see it stand, we will all arise after this great tragedy Odile and let's protect the planet. As is tradition, this great event was held to support the Children's Foundation, the Red Cross, and Firefighters of Los Cabos, besides promoting the cuisine of this tourist destination internationally. A selection of the world's finest chefs gathered for the Sabor a Cabo 9th Annual International Food & Wine Festival. Cabo's best local chefs prepared their signature dishes for everyone to sample at their displays.
President of the Chamber of Restauranteur CANIRAC in Los Cabos, Gianmarco Vela said: I think tonight was magical starting with the concert of La Ley.We are very happy not only for the music but for good food. Let us remember that this is a very important gastronomic event. Food comes first and the food is always complemented with good music, good wine and good friends. Gianmarco thanked all former presidents who participated in the organization every year and especially thanked the support of the Tourism Trust of Los Cabos FITURCA and the State Tourism Trust FITUES and the State Department of Tourism as well all restauranteurs, wine sellers, and other organizers.
Among the attendees were Rubén Reachi, State Secretary of Tourism of Baja California Sur representing Governor Marcos Covarrubias, and as head of the tourism sector by supporting this event as one of the main sponsors.