Sabor a Cabo 2014 Press Conference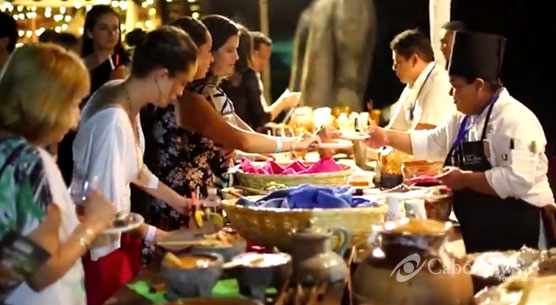 A press conference led by Gianmarco Vela, president of CANIRAC Los Cabos, to publicize the details of the food festival Taste of Cape Town, to be held from November 30 to December 6 in its ninth edition was offered.
He noted that this festival has been an effort by the restaurateur guild which has gained more popularity internationally for the first time, the event will last a week in which they will have the opportunity to taste and enjoy the best dishes, wine and music.
"Every event is different for tourists to get to know different areas instead," said Vela.
The Sabor a Cabo activities are scheduled as follows:
On Sunday 30, Sabor a Cabo vacation in Santiago. On December 2, Taittinger Cruise at the Marina Cabo San Lucas. On December 3, Craft Beer Festival on Medano Beach. By 4 December, Art and Wine Route in the historic center of San José del Cabo, share the activities of the Arts District. Chef's Night Stars for December 5th through participating restaurants. Finally, Sabor a Cabo in the Sculpture Garden in Puerto Los Cabos.
Renato Silva Mendonca, president of the Hotel Association of Los Cabos, reported that 15 hotels are promoting this food festival in their packets, thus attracting more tourists to the destination.
Tickets for the event can be purchased through the official website of Sabor a Cabo http://saboracabo.mx/. Notably, the proceeds from the event will be donated to Heroic Firefighters at Childrens Foundation and the Red Cross.