La Isla Tour: A Secret Island celebration.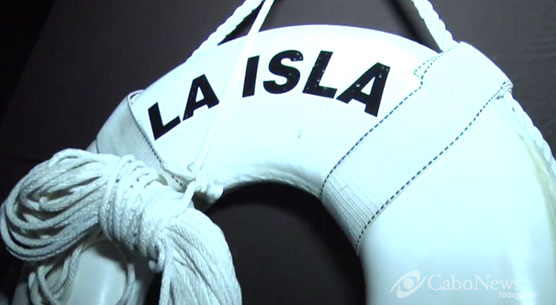 La Isla (the Island) is the only floating restaurant literally in Cabo San Lucas. It's truly a special experience. It ftitures an open area with long wooden dining tables and lounge furniture available to rest on and it's perfect to watch a sunset as well as star gazing at night. It was recently introduced as a dinner tour that takes you around the bay of Cabo San Lucas. They have two different evening tours available. A perfect sunset cruise! It's a small dinner cruise with an exclusive and intimate atmosphere. It is a unique dining experience for sure.
Armando Corral…"I am very happy to see this new product here today available for everyone looking to enjoy a romantic evening. We have this boat called La Isla which is a new concept now recently open for sunset cruse and dinning. We are open from Monday to Saturday with two available hours one is at 6:00 pm and returns at 8:30pm and the next tour leaves at 9:00pm and is back in the marina by 10:30pm. We are really trying to promote this tour for romantic occasions such as anniversaries, engagements, weddings and proposals. Also available a special charter for a family or a group of people. La Isla Island celebration provides all of this…"
We are also introducing our special Chef Ariosto that not only has 19 years of culinary experience but also is introducing a new concept of cooking called "Cocina de Autor" from the Nouvelle Cuisine. This concept is based on the idea that no recipe is ever duplicated. Each one of these dishes are quite unique.
The chef will be preparing for a starter a variation on a traditional Cesar salad. The main course is a surf and turf called Mar y Tierra. This is prepared brochette style. It includes a flank steak brochette with serranito sauce, Shrimp "pibil" style brochette with an apple sauce on the side and a vegetable brochette with baby organic vegetables with a pesto sauce drizzled on top. On the side there is a champagne vinaigrette dressing. The grand finally is the Special Secret Island Celebration which is a paste that is filled with exotic fruit accompanied with a dark vodka sauce.
We highly recommend this tour for anyone who is looking for a romantic dinner with a beautiful setting and delicious food.