Whale watching season begins in Los Cabos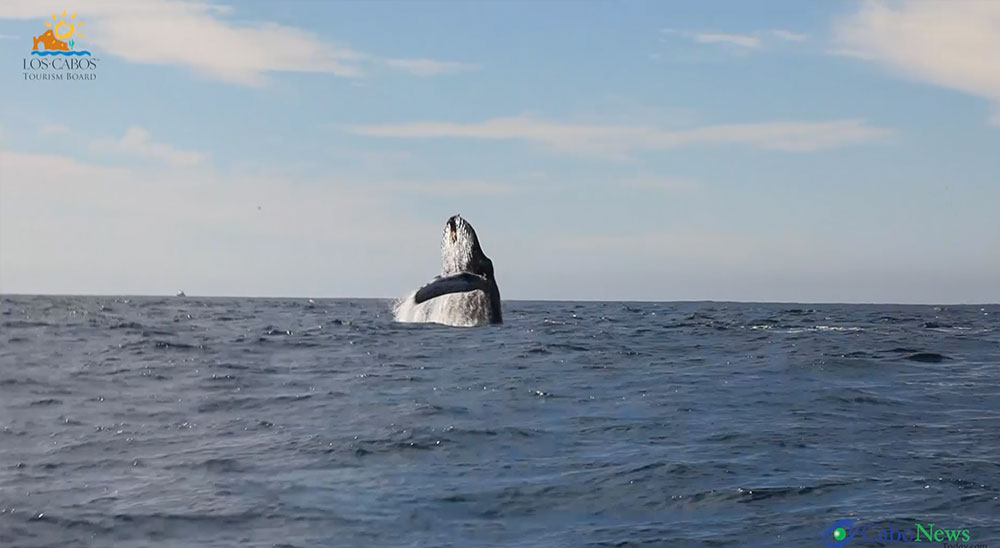 By: Tony Perez
This years most anticipated visitors to Los Cabos have once again arrived to this tourist destination, since December 15th and till mid-April the official whale watching season takes place in the waters surrounding Los Cabos, Baja California Sur.
All across the bay of Cabo San Lucas one can see various licensed vessels who offer tourists the specialized service of Whale Watching to those who have organized their visit here specifically to observe this extraordinary display of nature, as did Maru a tourist from Mexico City who has come to Los Cabos with her family to observe the whales.
Maru tourist: "We've had a great time, it's been an exceptional experience, super recommended for the whole family. It feels beautiful when you see the first whale, it an unexplainable feeling. We planned our trip here in order to visit with the whales…"
The flora and wildlife protection agency in Cabo San Lucas oversees that all tourist service providers respect the observation rules and not disturb theses or any other species during their visit and there for become responsible tourist with nature; as are Sanjit and Suapn a who have come to Los Cabos from Washington state to enjoy the recommended whale watching experience.
Sanjit tourist: "it's been great, an incredible experience, it's the first time we come here and we have truly enjoyed the experience. We've seen so many whale tails it's been great. It's truly a worthwhile incredible experience…"
Suapma, tourist: "we really have had a good time, it's been fantastic my first time experience"
RABEN is the name of a group of service providers and specialized authorities who have the skills to set whales free from occasional fishing net entanglement. Oscar Ortiz member of RABEN explains:
Oscar Ortiz, RABEN Los Cabos:"all members of the rescue group have received proper training. Any vessel who spots a whale in need can contact the Port Authority so that the proper rescue protocol can be set forth…"
Another extraordinary event that takes place only in Los Cabos.
I'm Tony Perez For Cabo News Today.