Whales are already here!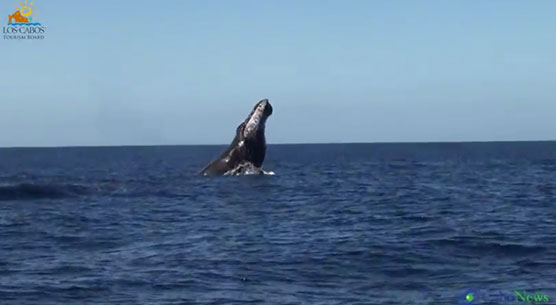 The time for the arrival of whales to Mexican seas begins in mid-December.
The first to arrive from the cold waters of the northern seas are humpback whales; they can be spotted from several vessels or from shore, near the coast of all of Los Cabos and especially from Cabo San Lucas.
This is undoubtedly the most impressive display of animal migration on the planet and it starts around mid-December, lasting until mid-April.
Which is estimated that thousands of gray and humpback whales after traveling about 10 thousand kilometers from the cold waters of Alaska go to the shrines of Guerrero Negro, San Ignacio and Magdalena Bay located on the west coast of Baja California South to mate and to give birth to their calves.
José Calvary, boat Captain: "…we can find right now humpback whale, which is the most common here in the area of Baja California, and the other is the gray whale, but still does not arrive until later--it's a bit slower…"
Tours last two hours and costs around $30 per person or more depending on the type of boat.
Ryan from Colorado: "…I've never seen anything like it--amazing…"
For some whale watching inspires tranquility…
Fabiola Escalante from the state of Mexico: "…So much tranquility, very peaceful...I highly recommend doing this, if you have the opportunity do not miss it, come and whale watch."
For those who lived this experience today, it was a great pre-Christmas activity.
Janice from Puebla: "…it is a great gift for Christmas. It's Very pretty, the whales put on a show and cooperated a lot…"
This natural spectacle is a great choice to end the year and receive 2015.