Sharks of Mexico 2/5 (Bull Shark)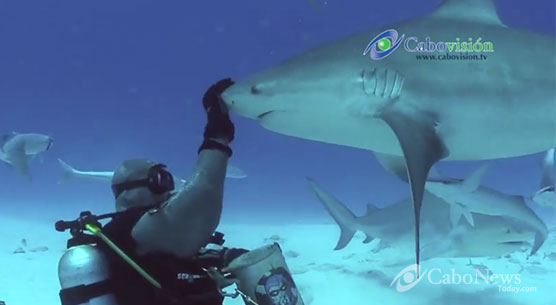 Within the more than 6,800 miles of coastline that Mexico has, there are several excellent dive sites especially for those seeking a close encounter with the most feared animals of the sea: sharks.
After finishing with the White Shark, and continuing with the expedition "Sharks of Mexico" started over two years ago by Gerardo, Hector, Becky and Paul, their next objective was to document the Tiger Shark in Cabo Pulmo, Baja California Sur.
Having no luck they flew to the other peninsula, Yucatán, to document bull sharks, considered one of the most aggressive.
Measuring up to 11 ft. in length and weighing up to half a ton, it takes its name from its robust body and the way they hit their pray with the head before attacking.
They can live both in fresh and salt water and it is considered aggressive because in addition to feeding of other fish, it also preys on dolphins, turtles and other sharks.
For the group of divers in this expedition, the encounter with the agile and imposing shark was exciting.
In Playa del Carmen, Quintana Roo, diving with bull sharks is regulated and only recommended for advanced divers.