Chileno and Palmilla Beaches have been awarded with The International Blue Flag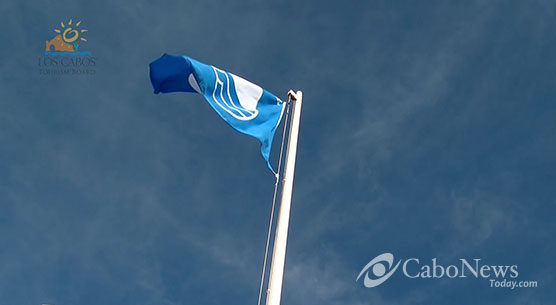 This past Friday July 18, the international Blue Flags awards for Chileno and Palmilla beaches were placed. Joaquin Rios, coordinator of the Blue Flag program announced that as of this pastFriday Palmilla and Chileno beaches are part of the near-four thousand beaches in 48 countries with this award. Both Pamilla and Chileno beaches have to comply with 33 different health and safety criteria to get the Blue Flag certification.
Francisco Massieu, quality and regularization sub secretary of the Secretary of Tourism, announced that all five beaches that were certified last year were re-certified this year and another six beaches were certified this year, including Palmilla beach. He mentioned that while getting the certification is an important merit, the re-certification is equally, if not more, important because it is a sign of the commitment to maintaining the standards of excellence established by the Blue Flag certification.
Mayor Antonio Agundez spoke of the importance of the Blue Flag certificate that was awarded to Chileno beach. He said that with the certification both visitors and residents know they are in a clean and safe beach. Francisco Massieu was present in representation of the Secretary of Tourism and said that this award is recognized around the world. He also mentioned that they expect to continue the certification of beaches around Mexico.
Massieu said that Los Cabos continues to be one of the most important destinations in Mexico. It is one of the destinations with the most number of visitors received and it remains as one of the top four destinations in Mexico. He pointed out that tourism continues to grow in Mexico and that the indicators show that our country continues to receive more visitors with better numbers in 2014 compared to last year.
Enrique Mejia Maravilla, water quality manager for the national water commission, stated that there are 365 beaches around Mexico that are monitored and 90% of them are within the health parameters for safe beaches. He also mentioned that the pools in resort areas are also monitored to guarantee that they maintain ideal levels of chlorine.