Sharks of Mexico 3/5 (Tiger Shark)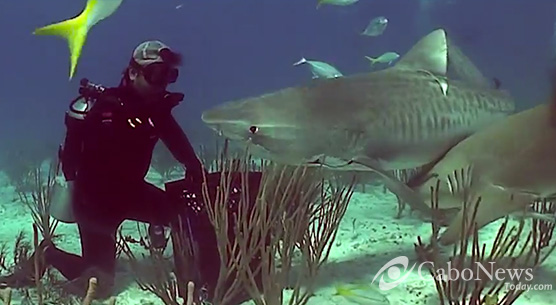 For several years illegal fishing and overfishing have been causing a significant decline in shark populations in Mexico and globally.
Andrés Cisneros, a marine biologist and economist, expresses that: "for 10 years the commercial shark fishing has been in in decline and this has been noted in populations worldwide"
Some of the reasons: its dorsal fin represents significant revenue to the eastern market, for the famous shark fin soup; it is also known as a substitute for cod in the fish market.
In the protected area of the Revillagigedo Islands it has been documented and reported that shark predation is still taking place by commercial vessels.
On the other hand, for more than fifteen years observing sharks in their natural habitat has been a form of ecotourism. It has now become an attraction that has grown substantially generating significant revenue without affecting their population.
Reporter: "This caught the attention of a group of marine biologists including two Mexicans from La Paz, Baja California Sur, who recently conducted a comparative study of the economic benefit of observong sharks in their habitat, or fishing them commercially."
Andrés Cisneros: "ecotourism has been growing very significantly beginning in Australia, now mainly in Mexico and is expected to double in the next 20 years."
Estrella Navarro, a marine biologist: "We measure globally in 45 countries and 70 regions...in contrast a future perspective was also assessed in this study and it is seen that shark tourism will have an income of at least $780 million for the industry in the next 20 years."
His work was published in two prestigious international scientific journals that could make an important impact in protecting and preserving the worldwide awareness of shark species.
The National Marine Park of Cabo Pulmo is now one of the main attractions.
Mario Castro, dive shop owner: "we want to maintain the attraction of this species, keep the shark alive, take tourists out and show them and take other dive shops who come to dive here. This is a profitable resource, main goal is keeping them alive."
This new activity is emerging as one of the most profitable in ecotourism while this could lead to the decline in commercial fishing and capture of sharks.