The chanting of the humpback whale and other wonders of Los Cabos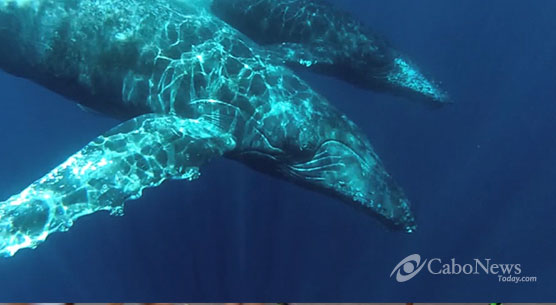 In this season of the great annual migration of whales which travel to the warm waters of Baja California Sur, close to Los Cabos, there are also other natural wonders that continue to impress locals and visitors. Under a full moon we are near the coasts of Cabo San Lucas. No boats in sight. Nothing that will disturb the unique sounds that comes from the humpback whale. Listening through a hydrophone.
The hydrophone is a cable that is about 30 feet long. It's a transmitter and an amplifier. With this hydrophone we can hear the sounds of humpback whales. Oscar Ortiz, tourist service provider, states that "the sound under water is seven times stronger than here on the surface."
According to the studies and experts, whales vocalize in an upright position. Sometimes these sounds can go on for 12 consecutive hours. Ursula Gonzalez, marine biologist, says "the humpback is the only kind of whale that makes these kinds of sounds that make up sentences which in turn form songs. It's very interesting to know they are the only species of whales that vocalize in this fashion."
Often, audio recordings of humpback whales are exchanged among biologists around the world. Oscar Ortiz, tourist service provider, says "we also have a transmitter that allows you to record these songs in order to study them; we can even send them to other places like Canada or Alaska to be compared with the chants of whales up there."
Those who get to live this do not forget the experience.