President of Mexico Enrique Peña Nieto visits Los Cabos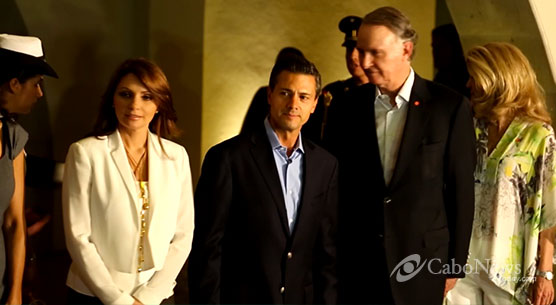 In his first visit to Baja California Sur, Mexican President Enrique Peña Nieto inaugurated Secrets Hotel located in San José del Cabo in the exclusive area of Puerto Los Cabos.
My wife Angelica and I feel very honored to be here at the opening of this hotel in San José del Cabo and to be part of this great project and development that is Puerto Los Cabos.
Built with an investment of $160 million, with 500 rooms, the concept of a high level of service, Secrets Puerto Los Cabos Golf & Spa Resort adds to the supply of more than 14,000 hotel rooms that this destination has to offer its visitors.
Governor Marcos Covarrubias: For us it was very important, this first visit from the President of Mexico, that he see the real advances that we have in the municipalities of Los Cabos, La Paz and Comondú.
Eduardo Sánchez Navarro Pres. Grupo Questro, who was the speaker and presenter of the project, indicated that this will generate 800 direct jobs, 1,600 indirect jobs will be generated and it will attract 75,000 visitors a year.
Eduardo Sánchez Navarro: Investments that you see are due to a climate of trust, it certainly is here in the state, which has led to the governor, and of course, the confidence that President generated to investors, and to all the people who come here
President Peña noted that he will support investors who have confidence in our country and that are willing to gamble for it as well.
President Peña Nieto: Here in Baja California and particularly in this region of Los Cabos, it's achieving a high quality tourist destination.
He said the tourism services sector of our country generates 8% of the gross domestic product of our country, which is the activity that employs the largest number of youth, women, and therefore is an activity that is important generator of employment in Mexico
Ruben Reachi: I think that in particualr Los Cabos and the entire state of Baja California Sur is an example of tourism development, an example of a dynamic tourism and all of the state of Baja California Sur can live from tourism as its top source of income.
The president said that the data showed that the destination of Los Cabos was very encouraging, as the number of visitors has grown 13% in 2013, relative to 2012, more than 1,200,000 tourists, consolidating this as a high-quality sun and beach destination.
Accompanied by his wife Angelica Rivera, Secretary of Tourism Claudia Ruiz Massieu, also the owner of SEMARNAT Juan Jose Guerra Abud, the Governor Marcos Covarrubias and his wife Helena Hernández toured the facilities of this resort. In addition, he held a private meeting with entrepreneurs in this hotel consortium.