Los Cabos International Film Festival, Lifetime Achievement Award,  Monica Bellucci 2016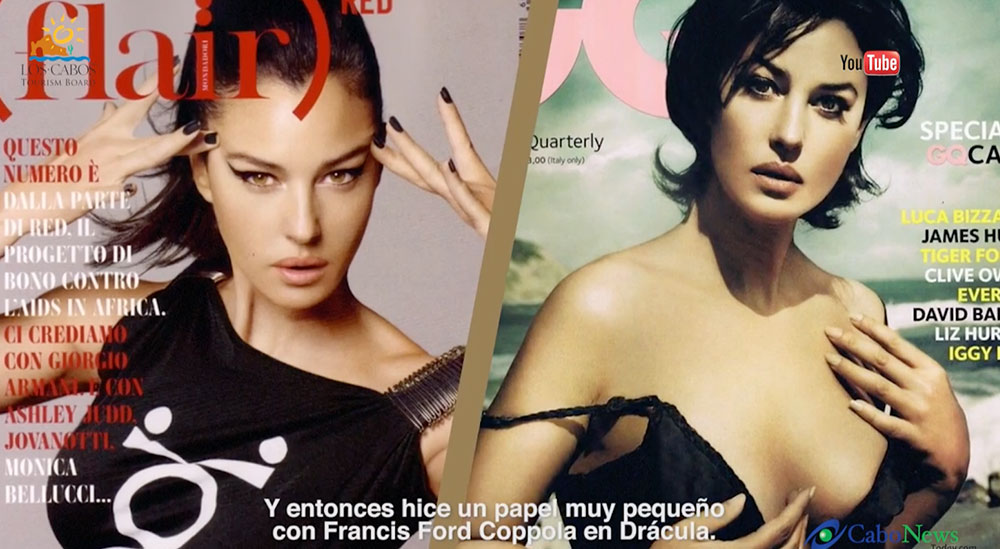 The fifth edition of the Los Cabos International Film Festival said farewell to this year's official activities by presenting the Lifetime Achievement Award to Italian born - international film actress and model Monica Bellucci.
Monica began her rise to stardom at the tender age of 13 when she started posing for local photo enthusiast. After studying law at Perugia University she studies acting while living in Milan. The following year came her film debut in the move Vita coi figli.
Since then cameras have continued to roll using her talent and beauty as one of centers of focus.
To date she speaks four languages, has appeared in more than 60 films, received numerous award recognitions and is considered to be one of the 25 sexiest women of all time.
This not being her first time in Los Cabos when asked of her impressions about this amazing place, she responds in style.
…oh my God, a dream, so peaceful, so beautiful and Mexico is an amazing country I'm honored to be here and Thank you for this invitation it's really amazing to be part of this beautiful festival."
Miss Bellucci filled the red carpet with glamour and grace during the International Film Festival capturing everyone´s attention at The Cultural Pavilion in Cabo San Lucas.
Due to her remarkable work in films such as Bram Stoker's Dracula directed by Francis Ford Coppola, Irreversible  by Gaspar Noé,  Malèna, by Tornatore, the Matrix trilogy and most recently in Spec tre where at age 50 she consolidates her career by portraying a Bond Girl in  the OO7 film franchise. She receives the award from hands of culture supporter Mr. Juan Gallardo
"I'm so happy to be here tonight, and so grateful not only as an actress but also as a Latina women. I love and respect this county for its tradition its culture and I really believe that cinema has the power to create a magic energy between cultures … so, long life to cinema, art and culture. Muchas gracias".
She also shares with us her passion for life, family and art.
"I think that what moves the world is love
And the cinema is a dream, a dream that we need.
This film proves that love and sensuality come from energy, not age.
I have to say that my family my children are the most important thing for me and then my work is my passion that comes after. First I'm a woman   and then I'm am acting …
With over 1700 film lovers present at this years Los Cabos International Film Festival, Monica Bellucci's star shines bright in the sky directly above Los Cabos.
With information from Armando Figaredo, I'm Tony Perez for Cabo News Today