Los Cabos first ever Greenfest!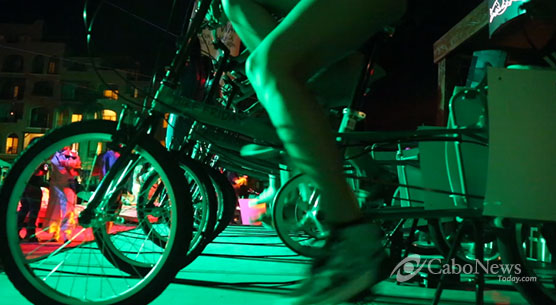 Los Cabos welcomed travelers to join the conservation of resources and the environment in the most interactive, green and sustainable event to ever take place in the destination; the Los Cabos Greenfest. This unique event combines music, natural resources, fitness, wellness elements all set against the dramatically beautiful natural landscape of Los Cabos for a truly unforgettable experience.
It all started on Thursday March 27 and ended on March 29th , the three-day event featured concerts, beach activities, water sports and pool parties. All power required for the concerts and events was 100% generated by attendees using bicycles. A portion of the proceeds will go to non-profit organizations to support sustainability and active transportation.
Concerts were held at the internationally renowned Nikki Beach, located at the ME Cabo hotel, and also featured artists such as Lafa Taylor, DJ Laura Low, Marv Ellis and We Tribe. The event helped to raise awareness about saving the planet and to create consciousness about conserving the Earth's natural resources.
Eduardo Segura stated that… "This festival is unique in that it aims to increase the global community by bringing together locals as well as visitors to create memories through music and sustainable practices."
Alejandro Vidal, founder and organizer of the Los Cabos Greenfest… "Every participant and attendee will leave Los Cabos Greenfest knowing they contributed to creating a more responsible and sustainable society."