Cherie Calbom presented her latest book in Los Cabos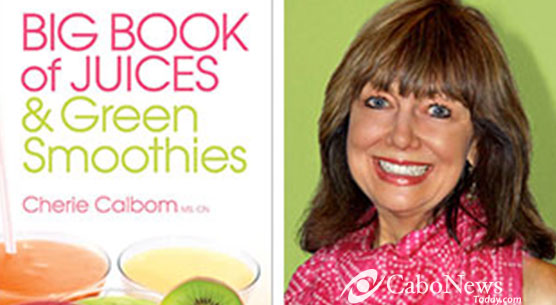 Cherie Calbom earned a Master of Science degree in nutrition from Bastyr University. She has practiced as a clinical nutritionist at St. Luke Medical, Bellevue, Washington, and as a celebrity nutritionist for George Foreman and Richard Simmons. Known as "The Juice Lady™" for her work with juicing and health, her juice therapy and cleansing programs have been popular for more than a decade. She became known as George Foreman's nutritionist and the other spokesperson for the George Foreman grills in 1996. She appeared continuously with Salton's Juice Lady juicer and Juice man juicer and the George Foreman grills on QVC for thirteen years where she sold millions of dollars in products.

Cherie is the author of 21 books including the bestseller Juicing for Life (Avery, 1992) with 2 million books sold in the US and published around the world in 23 countries. Other best-selling books by Cherie include: The Juice Lady's Guide to Juicing for Health, Revised Edition (Avery), Juicing, Fasting, and Detoxing for Life (Hachette),The Coconut Diet (Warner) and The Big Book of Juices and Green Smoothies (Charisma House).

Cherie's books have been featured in four cover stories for Women's World magazine. She has also had feature stories in USA Today, New York Post, First for Women, Quick & Simple, Vogue, Marie Claire, Elle, Newsweek, New Body, Fitness, McCall's, Shape, Women's Sports & Fitness, Oxygen, and Natural Health.

Cherie has appeared on Fox Morning News, Chicago Fox News (feature story), CNN, WCBS "Live From the Couch, and Jordan Rubin's "Living Beyond Organic" as the on-air chef. She has also appeared in seven infomercials including the Juice Lady infomercial, the Juiceman Infomercials, and has co-hosted three George Foreman Grill infomercials.