Club 500 visits Los Cabos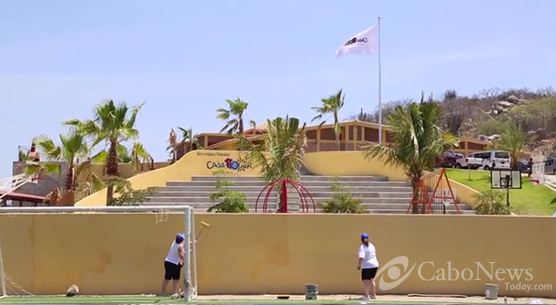 Saturday 31 1:30 pm arrived at Casa Hogar Cabo San Lucas with a truck Club 500 members of The Mark Travel Corporation and its various brands among them are owners and representatives of the top 200 retail travel agencies in the United States, The top 200 travel agencies in the category Gold & Platinum (Gold and Platinum ) behind the brands and products of The Mark Travel Corporation (TMTC), which include Funjet Vacations, United Vacations and Southwest Vacations in the United States to Mexico.
For about two hours, toured the facilities and interacted with the children taking pictures, painting, etc, the Director of the Children's Home and managers, gave a detailed explanation of how the institution is run, and how it supports each child according to their needs.
Finishing the tour, they invite you to go to the soccer field for as part of their social work, collaborate painting the walls thereof, the atmosphere was great enthusiasm, and all were very committed to the time to help and happy to support such causes.
They also gave more pantries and gifts for children.
In the afternoon, at about 730 visited downtown San Jose del Cabo which made an "art walk" to finalize the day's activities with a dinner in the restaurant Don Sanchez.
It is noteworthy that the Tourism Board of Los Cabos is an Official Sponsor of the Annual Convention "Platinun 500 Club". Importantly, this work trip and incentive, includes only accounts best 100 travel agents for production
Mexico, so our mission is a unique promotional effort of its kind, focused on generating a higher volume of these tourists to our destination, the short term.