Build a Bike or Build a Bike Together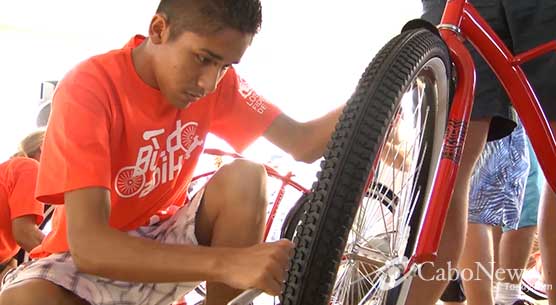 This past weekend in Cabo San Lucas a unique event took place benefitting the children of Los Cabos and in coordination with the Tourism Trust for Los Cabos and the participation of Gary Sinise, a well-known actor and star of CSI New York, and the movie Forrest Gump.
Build a Bike or Build a Bike Together gathered other altruistic groups in Los Cabos such as Stars and Stripes, Golden State Foods and pro sports organizations TricaboKidz, Pedal Power and Family Recreation Bikeway Cabo San Lucas.
Gary Sinise: "I was here 20 years ago, in 1993...it is very different, it has grown considerably since 20 years ago...I've heard how much it had grown, and I would say since I was here in 1993 it has changed a bit! And now beaches and everything its very exciting to be here, it's a wonderful place."
The actor spoke about his involvement in the Stars and Stripes organization.
Gary Sinise (translated): "Well we have many colleagues in the military who have been injured in the last 30 years of war. My foundation is to serve and try to give back to them through the foundation garysinise.org and we do what we can to make sure we take good care of our military colleagues."
He also referred to the concert that his band "The Lt. Dan Band" offered in a hotel in Los Cabos as part of the events of Stars and Stripes.
Gary Sinise: "Yes, and we should not forget the people who have and are defending us, and that's what I try to do, go out there and do concerts with my band to support the military and do what we can to raise awareness and seek funds to take care of them."
Sinise continued: "Lieutenant Dan Is the character I played in Forrest Gump 20 years ago, and you know, I started visiting hospitals and visiting the wounded, service members who identified with the character, so just after a while, I got used to calling the band by the character name, but the band is part of my nonprofit foundation, I don't profit on it--the money I raise is only to help and give back to veterans and care for military families."
One of the beneficiaries is John Mason who unfortunately was severely wounded in the war in Afghanistan and is now ambassador for "Stars and Stripes"
John Mason (Wounded veteran): "Well Stars and Stripes definitely makes a lot of money for our program to help children, I got involved as part of the foundation with Gary Sinise and The Lt. Dan band. The band had a show last night and I was his guest and I am an ambassador and benefitted from it, and you know, we got together to form a great team here and we are doing everything for the kids."
Gary Sinise: "There is nothing better than seeing the kids happy, and I see a lot of happy kids here and that is something important. These kids are having a great time. We will be giving these bikes away. This organization is doing a wonderful job. I understand that this happens every Sunday! Fantastic!"
18 years ago The Dicko started with the idea of helping children by organizing a fishing tournament at the Chileno bay Hotel. This has continued and now with the invaluable collaboration of Chuck Brown, one of the main organizers for this event and who makes this possible and to bring his compatriots to join these efforts is amazing!
The Dicko: "The idea came ... I was writing my goals down on paper, and wrote "do something good for the kids every year," and for 10 years I did nothing, and one day I was mad at myself and all of a sudden the idea came to me...what I meant was that all the people of Los Cabos, that the Americans can come and help, not just come and use the beaches, bars, golf courses and so that's what I wanted: to have everyone understand that we are here for you too, that's all I want. Thanks to these events we have been able to achieve more, taking the kids to school and then university, looking to reach a better future with better conditions to work in and become a contributor in the progress of Los Cabos."
He also participated in the Pedal Power sports that promote green energy.