Mexico's Tourist Promotion Council held it´s Marketing Committee for the first time in Los Cabos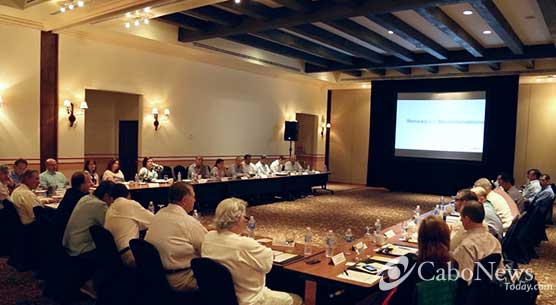 Rodolfo Lopez Negrete, director of the council mentioned that... "Los Cabos was chosen for this meeting which is held outside of Mexico City for the first time because of its importance as a tourist destination and the success it's had in both the national and international markets"…
Los Cabos is the destination that is producing the best numbers in terms of growth.
"It's the first time we have the opportunity to receive the CPTM with this committee here in Los Cabos" noted Reuben Reachi, State Secretary of Tourism.
Some of the companies representing where: Funjet, Pleasant Holydays, and airlines such as American Airlines Vacations.
American Airlines Chairman stated that "…this is a great opportunity to project Los Cabos as the best tourist destination in Mexico and Latin America.
Meanwhile, Rodolfo Lopez Negrete, General Director of CPTM, indicated that
He also mentioned that it is important to continue to invest in promotion in the US and Canada and to keep in mind that they are the main markets for Los Cabos and that the continued creation of new programs to attract visitors will allow for continued growth
In a related topic the marketing committee for Mexico's Tourist Promotion Council addressed during their meeting the importance of offering a solution to certain topics one of which is the delays in international arrivals that required more staff to serve the number of arrivals and shorten the time to process all the visitors that arrive to Los Cabos.
Rodolfo Lopez Negrete Interview:
Liane Augustine Interview:
Lawrence Elliot Interview:
Jack E Richards Interview: