10th Edition of the Los Cabos VIP Summit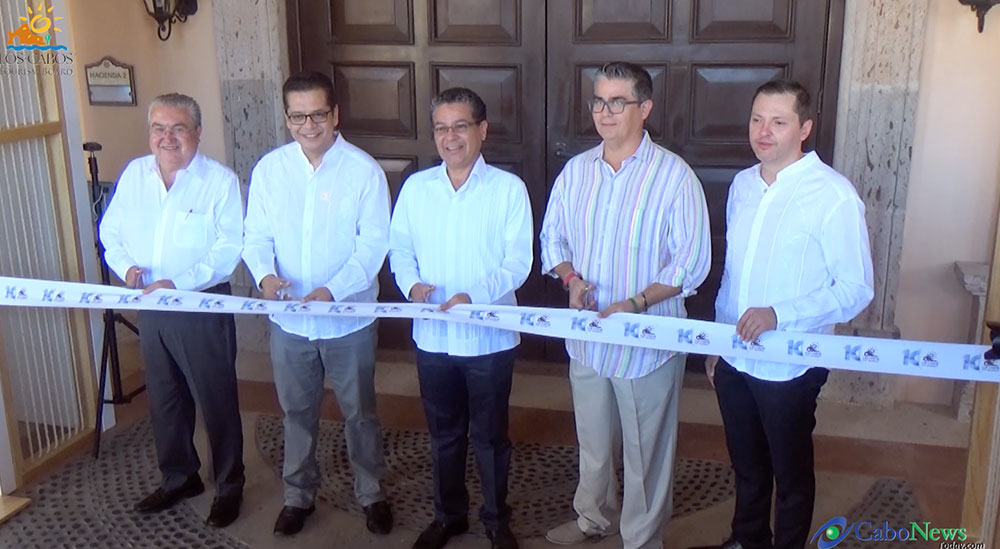 Los Cabos VIP Summit is considered "one of the most important events of its kind worldwide"
The Los Cabos Tourism Board held this year the 10th annual event with the presence of Los Cabos Strategic partners, all of Los Cabos Hotel offerings as well as Airline representatives, Travel Agents and Operators, Tourism oriented web page writers and luxury hotel executives from around the world, all focusing on more and improved strategies to advance the image of Los Cabos worldwide.
Enrique Turcott, President of the Los Cabos Hotels Association: "Armando this is the best event we have For Los Cabos and we are so happy because this is the 10th year that we have this event and every year its getting better and better"
Rodrígo Esponda, Director of FITURCA: "Our principal partner are all here, over 2000 apointments are already scheduled between the 50 hotel present and our 45 partners that are here from around the world, we need to do diversification strategy and furthermore, we need to position Los Cabos in other emerging markets such as Uk, Europe, Australia that you know is the 3rd. international market for Los Cabos and that is very interesting, we have to really position Los Cabos as the premiere destination not in México, in the world"
Sebastien Arnaud, Cabo Azul: "It's a great moment for Los Cabos I think that everybody as to see this and look after us. As you know 5200 new rooms in the next 3 or 4 years so there´s a lot of expectations not only in the county in the world"
Manuel Días Cebrian, Representative for Los Cabos Tourism Board in UK: "I think it's an amazing thing with the growth that Los Cabos is having I think it´s important to put everything together, it´s impossible to see every thing even if you come for ten days. It´s the variety of the excising products and the new ones it´s actually overwhelming"
William Bakker, Destination Think: "It´s a beach destination, it´s warm they probably have nice resorts nice foods, friendly people, all that kind of stuff; as I know I was coming I asked around, I hade some friends that had been there, it was all good and I can see how the destination has the capacity to probably absorb all the additional development"
Mie Morgan, Product Manager at Classic Vacations:  "Right now Los Cabos is one of the first options for the luxury travel with all the options we have here, its one of the destinations the travelers are looking to come, and right now there is also lots of non stop flights coming in to the destination which makes it very accessible"
Xabier Eguren, Coordinator, Alliances Virtuoso: "The Virtuoso clients come and associate the brand the essence of those products with the destination, having many jets, private planes coming is key for the developing of the destination and that's why we work with the Los Cabos Tourisum Board and our Virtuoso network to increase visitors here, not only visitors but also revenue so they will stay at the top hotels, top rooms and enjoy the experiences that the destination can provide."
Cristobal Tortosa, Senior Market Manager at Expedia Inc.: " You know all the indicators from capacity to room night grow, etc., are looking very very strong and we anticipated to have an incredible 2017"
Cathy Matos, Cathy Matos Mexican Tours: "The client direct and the up scale travel operators of England are desperate to find a destination that is not Cancun and Riviera Maya"
Juan & Eduardo Vela, Grand Velas: "Mexico has three important destinations, Cancun-Riviera Maya, Vallarta-Riviera Nayarit and Los Cabos, and our own clientele had been asking us to be here in this destination, Los Cabos is number one as far as rates go, the market from California is exceptional and this is where we need to be"
Genaro Ruíz, Secretary of Tourism of Baja California Sur: "We are realy happy with that, with the tourisum sector as well as with the three branches of government which we´re working with that goal for the benefit of our destinations very specially in Los Cabos"
Rodrígo Esponda, Director of FITURCA: " We invite you to keep supporting Los Cabos and if Los Cabos is a good destination is because everybody in the community and in the industry worked towards that" 
After three days of intencive meetings and several social and network gatherings, one can expect a propsperus future for Los Cabos tourist industry
With information from Armando Figaredo, Tony Perez for cabonews Today.