Musical group Mana was acclaimed at Sabor a Cabo 2016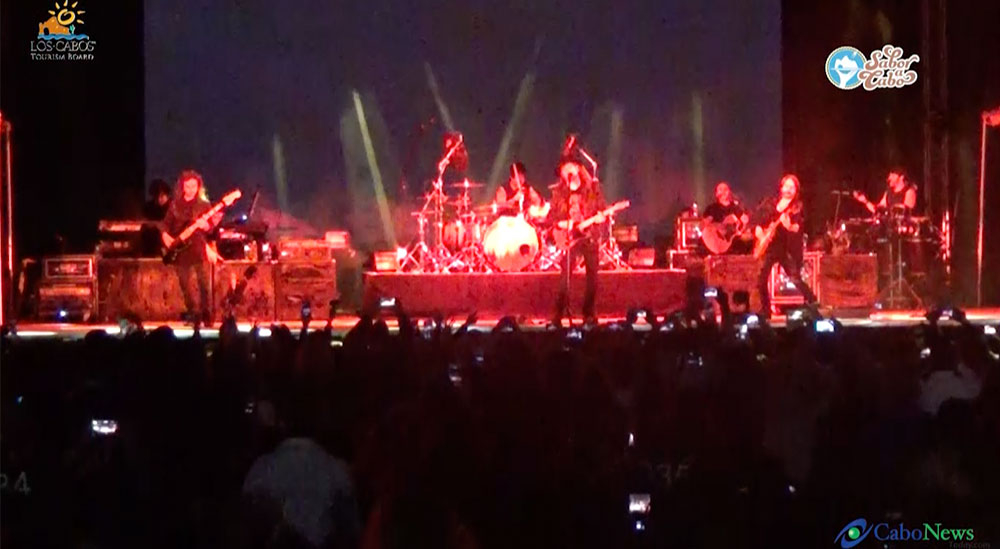 For Cabo News Today…. Tony Perez
With the participation of more than 80 food stands from the best restaurants, bars and most prestigious wine brands in Los Cabos took place the 11th annual gastronomic festival Sabor a Cabo.
The Sculpture Garden at Puerto Los Cabos was the site of this great event that had as its main course the presentation of Musical head liners Maná, who for the first time appeared in this tourist destination to offer their last concert of 20 16.
Maná give up one hundred percent to the audience framed by a spectacular stage that implied a production that surpassed 5 million pesos.
People danced and enjoyed the concert that, undoubtedly and until now, is considered as the most memorable that has been presented in Los Cabos in the middle of an extraordinary atmosphere of friends sharing great and unforgettable joy.
Present was the governor Carlos Mendoza Davis and Los Cabos mayor Arturo de la Rosa.
Carlos Mendoza Davis, Governor of BCS: "We are also a tourist destination in culinary, and here we have a very clear example of how it has developed, a wonderful event, a unique night"
Arturo de la Rosa, Mayor From Los Cabos: "An important event that puts Los Cabos back in the eyes of the world, and this speaks of the greatness of Los Cabos"
For tourist promotion this event has already consolidated it's self as one of the most important.
Genaro Ruiz, State Secretary of Tourism: "It is a referent and Sabor a Cabo, and the most important of this is that people know the gastronomy that we have here in this wonderful destination, is one more ingredient that we can show the world"
Gianmarco Vela, CANIRAC State President: "We have a very positive return on investment for the destination and tells us that we must continue to promote gastronomic events of this type, because it is what tourists are looking for"
Michael Smith, Los Angeles: "This is my third year coming, we planned our entire trip to be here, no event like this, food is amazing drinks"

Seana Jones, Vancouver: "It's fantastic, I've never seen so much good food in one place, and it's so nice to be able to sample everything from wine, tequila, and all the flavors here in Cape Town"
Erick and Nina Patson, Colorado: "I think it's fantastic, we've been coming here for 15 years, it's our first time at this event and we love it ...I can not believe how wonderful food there is, and the wine is just extraordinary, of first class"
The beneficiaries were the Los Cabos Children Foundation and as in previous years, the firefighters of Los Cabos who received two new fire trucks. 
The Los Cabos Tourism Trust fund, the state and municipal government as well as Group Questro were the main sponsors in addition to all those who attended and participating restaurants, bars, wine houses, tequilas, mezcaleras, national and international companies from the great industry of gastronomy.

With information from Armando Figaredo, I'm Tony Perez for Cabo News Today.