Fitur - Madrid 2017, A great showplace for Los Cabos and the rest of Mexico.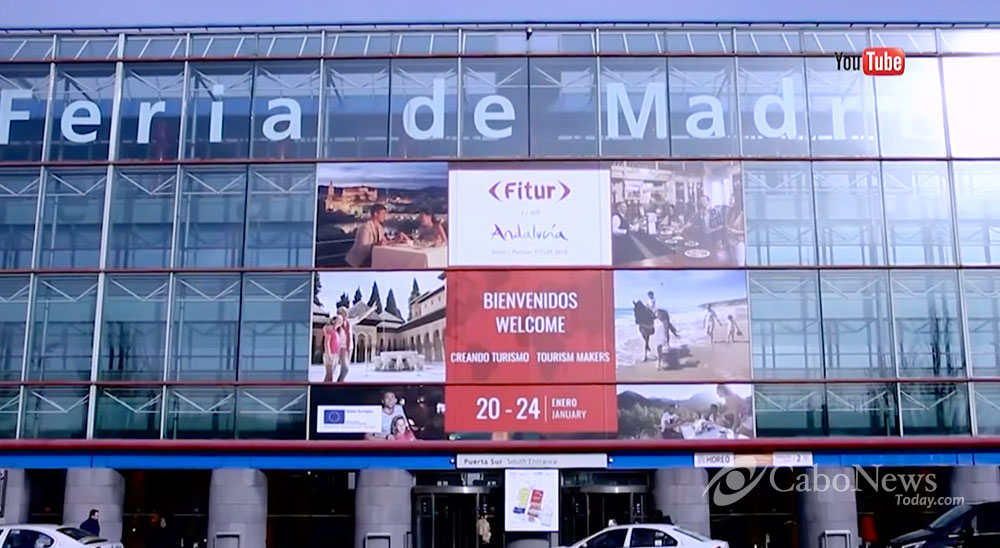 By: Tony Perez Dillon
As is customary for the last 37 years; during the first days of January, Madrid Spain becomes the world's show place for tourism through FITUR, the International Tourism Fair, staged at the impressive Madrid Convention Center (IFEMA) where major exhibitions and international conventions usually take place.
9,672 exhibitors from 165 countries participated showing their best faces, landscapes, attractions and flavors, on a surface of more than 62,500 square meters.
Tourism professionals and visitors this year added up to more than 250 thousand guests, an increase of 10% over last year's attendance.
Argentina was designated as this year's main partner presenting all its attractions.
This year FITUR presented several new sections such as: FITUR SHOPPING, FITUR HEALTH, FITUR TECH, FITUR GREEN and most especially the Gay and Lesbian tourism sector, which by the way delivers for Spain over 6.2 million tourists a year and generates more than e.6,300 million euros per year, almost 40% more than business tourism does.
Various exhibition areas were divided into Latin America, Central and Eastern Europe, Asia including China, Japan and other exotic countries, the Middle East and Indonesia, New Zealand and Australia, Africa, and of course Spain with its great variety of attractions and regional beauties.
Also present were peculiar characters who provided FITUR with its color and particular interest.
The extraordinary Mexico pavilion was placed at the entrance to the Latin America section.
Los Cabos representatives, as every year meet with tourism professionals who showed great interest in this tourist destination.
Rodrigo Esponda, Dir. FUTURCA:
"We have realized that there is a lot of interest in Los Cabos as a destination, and as a destination that can offer the sophistication and experiences obtained by Los Cabos ... we held 35 working meetings in 2 days, with the main Spanish tour operators, some Dutch and other Europeans, and 2 airlines that have flow here. In Spain there will be a consistent work program which will give very good results for Los Cabos in the following years, and more with the openings they are providing"
Paloma Palacios, Dir. Hotel Association of Los Cabos:
"We are especially focusing on ... how to start positioning ourselves in the European market, something very important that we are seeing is how to put together all those packages, those tours, with the new hotels, these new developments that will allow us to start to access a little more European tourism."
Manuel Diaz Ciprian (Cyprian?), Rep. Tourist Trust for Los Cabos in Europe:
"Los Cabos is a jewel, in the surrounding area it has that biodiversity is nature which is today what people are looking for, not only in the United Kingdom but in all of Europe. However I think it's very important, as in many other tourist destinations in Mexico, that we be careful with exorbitant growth, something that Europeans generally like about Los Cabos is that it's a destination that is not overly populated."
Jesus Ordonez, Dir. of FITUES:
"There's interest shown by several of the strong tour operators here in Spain, to generate more flow towards the state and to be able to increase somewhat the variety of products offered throughout our half of the peninsula."
Genaro Ruiz, Sec. State Tourism B.C.S.:
"In fact it's been very successful, precisely since we've established these new schemes for tourism promotion for 2017, which is certainly a year that will be full of challenges, also full of opportunities to continue to position Los Cabos as the best destination on the Mexican Pacific coast. We mustn't forget while facing these challenges that we must diversify our markets, seek new business schemes and also be able to have new business partners from both the European and Asian continents, and certainly not neglecting our greatest tourist provider the United States."
Miguel Alonso Reyes, Dir. FONATUR:
"FONATUR is present as every year at this important fair in Madrid providing a platform for tour operators, travel agencies, hoteliers, and airlines from most of the world can have an appointment with Mexico first through our pavilion in which we are a part of this great Mexican tourist sector, and so we can strengthen the presence of Mexico by projecting and promoting our great destination."
Five days of extremely varied activities promoting this great chimneyless industry that is increasingly expanding and becoming more important for economic development worldwide.
The appointment is now set forth from the 27th thru the 30th of March, 2017, at the famous International Tourism Tianguis in the incomparable Port of Acapulco.
With Information by Armando Figaredo, I'm Tony Perez for Cabo News Today.
End.