Great Presence of Los Cabos and the Rest of B.C.S. at the 42nd Tianguis in Acapulco.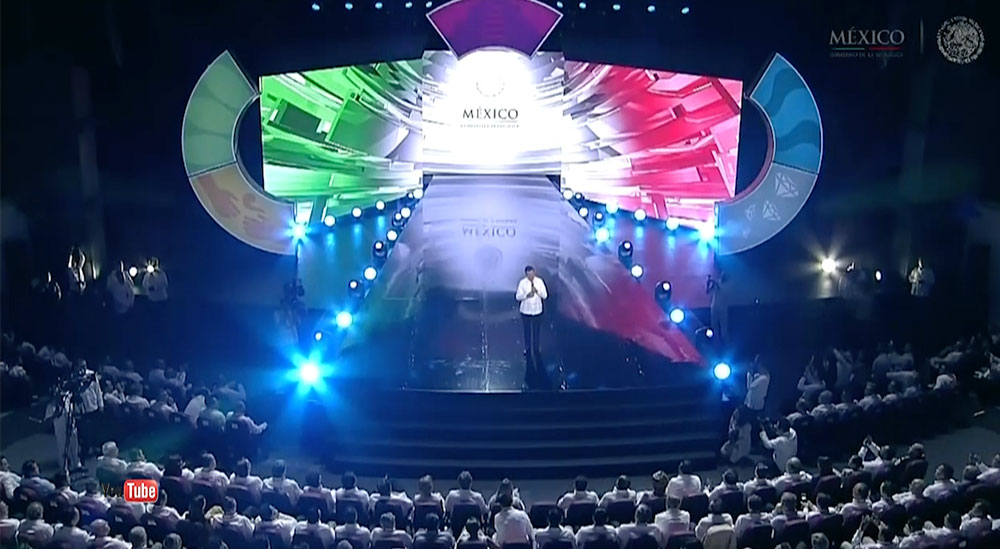 With the presence of President Enrique Peña Nieto during the inauguration took place from the 27th till the 30th of March the 42nd edition of the Tourist Tianguis in Acapulco, Guerrero.
As in years past businessmen and executives from the tourism industry were present amongst hotel directors, travel agents, tour operators,
DMC's, airline representatives and the specialized media all gathered with the objective of finding a space for interaction with both national and international buyers.
Presentation of new hotels, air routes, travel packages as well as conferences and a gastronomic exhibition presented by the state of Guerrero all took place enhancing the promotion of Mexico.
It was announced that during 2016, more than 35 million international tourists visited the country;
Almost 50% more than during 2012, while domestic tourism grew 20%, from 189 million domestic tourists in 2012 to 226 million in 2016.
During this Tianguis more than 900 exhibitors were present,
1,606 buyers, and attendees from more than 80 different countries par_ticipated.
The welcoming party was hosted by the state of Guerrero in the gardens of the famous Acapulco Princess where Lourdes Berho, Director of the Tourism Promotion Council for Mexico and officials from the state of Guerrero greeted the more than 1,200 industry reps. in attendance.
(Insertion.-) Lourdes Berho, Director of the Tourism Promotion Council of Mexico: "Thank you very much for attending this wonderful Tourist Tianguis ..., we are very grateful and blessed by Acapulco for hosting this wonderful event"
The Baja California Sur pavilion showed with great amplitude the beauties of all five municipalities such as La Paz, Loreto, Mulegé, Comondú and of course Los Cabos.
Rodrigo Sponda, Director of the Los Cabos Tourism Trust,
FITURCA, spoke to Los Cabos a la Carta
(Cabo News Today)
during an exclusive interview.
(Insertion.-) Rodrigo Sponda, director of the Los Cabos Tourism Trust, FITURCA.
"In each the meeting with the main tour operators and business partners from the United States, Canada, some of Europe and Mexico the results have been very positive, we have signed two very interesting agreements to increase collaboration and promotion, therefore increasing our tourist flow, and the prospects are very, very encouraging, so we are sure that it will be a very productive year for Los Cabo"
He also detailed that during the month of May he would be working with Alaska Airlines regarding Sacramento and also confirming a joint marketing campaign with one of the larger tour operators for the San Diego-Saint Louis, Missouri - Los Cabos route, in addition to the (SD / LC /SD)San Diego-Los Cabos-San Diego Southwest Flight that started in April of this year.
The goals for the presence of Los Cabos at the Tianguis were also stated:
(Insertion.-) Enrique Turcott, Board of Directors President for the Los Cabos Hotel Assn.: "Reaffirming what we already have, but also, very important close contact with the Tourism Promotion Council of Mexico (CPTM) on several issues, but also a very important topic came up, it has to do with the subject of Meetings, and so we have already started very solid communication and are able to work hand in hand with them"
On another note, a luncheon-press conference was offered to the national and international media as well as a cocktail party at Las Brisas where the opening of new resorts such as Chileno Bay and Residencies,
Grand Velas, Krystal Grand,
Le Blanc Spa Resort and Solarz Los Cabos were the main attraction.
During the event Miguel Angel Mondéjar, Marketing Manager for FITURCA, spoke to us about the ongoing "Thanks Los Cabos" campaign.
(Insertion.-) Miguel Angel Mondéjar, Marketing and Commercialization Manager-FITURCA- "Thanks Los Cabos is a campaign of gratitude, directed to both tourists and local people. The objective is to create cooperation by word of mouth. What Thanks Los Cabos wants to do, is highlight all those unforgettable moments and give thanks to our destination for what it offers, it's something you treasure, something that you will remember and something you're going to save and share"
To close our State Tourism Secretary spoke about the collaboration agreement signed with the State of Guanajuato
With its colonial and now brother city to Los Cabos; San Miguel de Allende.
(Insertion.-) Genaro Ruiz, Srio. Tourism in BCS: "In fact, it has been far too successful, precisely by establishing these new schemes for tourism promotion, with regard to 2017, which is certainly a year full of challenges and full of opportunities as well, and also by celebrating this union that we currently hold between the state government in combination with the Tourist Trusts and also very specifically the state tourism sector with Los Cabos, to work in the same direction, working in a coordinated fashion to continue positioning Los Cabos as the best destination on the Mexican Pacific."
With information from Armando Figaredo
I'm Tony Perez for Cabo News…… Today.