Interview with Bob Bisbee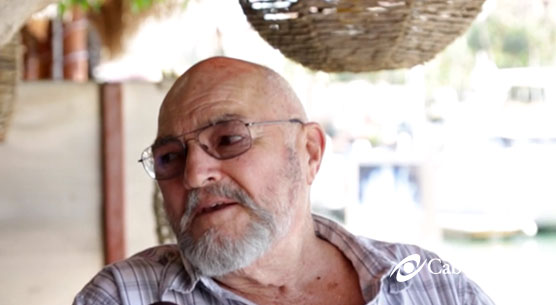 A visit with a legend and pioneer of sport fishing in Los Cabos… Mr. Bob Bisbee.
Bob can you tell us about the Bisbee tournament and how it got started? (I know you are probably sick of answering this question) being a local it's an honor that this tournament takes place; you have put Los Cabos on the map for decades now. Please give us a recap of why and how you got started in Los Cabos?
I got started a long time before the tournament. I arrived here in 1963. I have been running around here for over 50 years. When I got here there was nothing but a canary, no boats no people nothing. I was fortunate enough to be a union worker for a Union Oil Company in New Port beach California on Balboa Island and at that oil company we serviced many yachts. I was fortunate enough to meet boat owners that were able to come down here and also have an airplane it was mandatory to have an air plane back then!. They would get ready to come down to Cabo and they would invite me. They would ask "Bob we have an extra seat on the plane, do you want to come down?" well sure I want to come down!...
We would land airplanes here in this hard pan where the marina is now. Back in those days that's how it was done. In the 60's and 70's.
In 1978 I started a big project here in Los Cabos with Miguel Aleman (former president of Mexico) he was my partner and in 1982 when we were ready to start building Miguel Aleman past away in 1983. So that kind of blew the project apart.
To get back to your question on how the tournament got started, well…. Luis Coppola and his nephew Bill Befort from the Finisterra Hotel were really good friend of mine. They would go to New Port Beach to buy their fishing tackle for their "Tortuga" fleet from me. One day they had been golfing and we all were talking about golf and discussing about Calcutta and the biding . So one of them asked "why can't we use this for a fishing tournament?" I said "I don't know let's try it" (which led to the daily jackpots) I had my boat down here and Bobby (my son) was my Captain at the time. We got a tournament put together. We ended up with 6 boats in the tournament. I won that tournament by the way. I won the first Bisbee's. So I can say I won a Bisbee's. I just don't say when. I won my own money back. That was in May of 1982.
We had so much fun on that tournament we held another one in December of that same year. And the participation doubled 13 boats in the second tournament.
There was nothing down here before December; no business was open back then during the summer. The hotels that were in town The Hacienda and the Cabo San Lucas Hotel closed for the summer. So any way that was why we held the tournament in December. We continued on and in May 1983 we had 27 boats. We held another one in December of that same year it was taking off very well. We were having a lot of fun. We were betting on the boats like in a Calcutta, it was good. The following year we did not have a tournament in May; we waited until December to hold it. We kept it in December and kept moving it back so that the season became longer. We moved it until we finally held it in October.
We got to October and boats are not insured to leave US until the 15th of October. So we started our tournament the 19th of October. We would bounce back to the 19th to the 25th. That worked well for a few years….
The Hotel Association started a tournament and put it right on top of us, so we move the days to the 22nd to 25th. Then time shares were selling a lot. They sell more time share here during the month of October so our tournament screwed up the time share month so we decided to hold the tournament on week 42 so that it would not interfere with the time share business, this way it could be held the same time every year so that people could plan accordingly.
It kept progressing more and more boats came. Being in the fuel business and tackle business I would get all the boats I can get to come down here. They were spending money at my store and filling up on fuel, roads, reels and fishing tackle it was a big business for me. I would talk up Cabo to anybody who had a boat capable to come down here to Los Cabos
In 1983 we had a tsunami that put a lot of boats on shore, 40 and 60 foot boats up the shore 50 feet they were sanding up and this destroyed a lot of boats. So then the insurance companies in the US would not insure any boats coming to Mexico. That killed Mexico right there. So then I got to talking with Bud Parr from the Hacienda, and The Cabo San Lucas Hotel. He said "I can get permits to put in moorings"
Do you want to do it? Yeah, I'll do it! So I started to put together a big order of huge barrels of chain, nylon rope and over 200 anchors of all sizes. Then my Captain Dave Liles and I went to the US and brought all the stuff down. I took Bobby (my son) and put him in the mooring business. We bought a panga, he got 2 – 3 boys to work with him and we set these moorings all around the rim of the canyon we had over 100 moorings out here. So here come the boats again. And then they (the insurance companies) insured the boats once more "you might say this saved Cabo's ass" if it had not been for those boats… "People are always talking about golf courses" "it was not the golf courses that build this town" it was the yachts.
It was a pretty good business and it went well.
Then my son Wayne came down and took over for about a year. Soon after that the marina came; naturally the marina was filled before it was actually finished. It just got bigger and bigger, more of everything in Cabo. People winning the tournament starting buying houses and business most of that money they would rather spend it here than take it back to the US "it was a big shot in the arm for old Cabo San Lucas"
What were some of the challenges you faced?
We really never had any problems it was a positive situation, it always went really well. I gave it to my son and daughter Wayne and Trisha; in 1995 it got to damn big for me. I am not (computer) literate enough it all went in to computers. They can be anywhere in the world and run this tournament from anywhere it's all computer nowadays.
I sold my business in New Port and retired out of it. I opend a big tackle store in New Port. I wanted to spend as much time as possible in Cabo. Wayne and Trisha took over the tournament and they have done wonderful with it. They went out and got sponsors. I never had sponsors or anything like it, no advertising in magazines, and all the money came from the tournament. So now they sell to sponsors and make a living out of it. The tournament does not put meat on their tables; it is the advertisers and sponsors that make it a business. We have not raised any money out of it in years "it's been good, the tournament has been always very well received here"

How do you feel about Los Cabos today v.s. 30 year ago?
"Don't ask me that" I liked it when I came down 50 years ago. I enjoy it but not like I used to; but because of health issues, I can't fish any more. Now I spend time with my family. No regrets on any of it I'll tell you… It's been a good ride... Worth every heartache…