Interview with Gianmarco Vela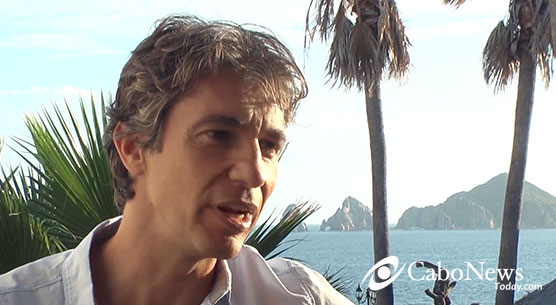 A special Interview and sneak peak with Gianmanrco Vela and The Sabor a Cabo 9th Annual International Food & Wine Festival new venue.
A top-tier selection of the culinary world's finest chefs will gather in Los Cabos from November 30 – December 6 in celebration of the destination's 9th Annual "Sabor a Cabo" (The Flavors of Cabo) food & wine festival. Guests travel from around the world to dine beneath the stars enjoying the best-of-the-best of international cuisine and wine to attend the most prestigious event of the year.
Dieter Koschina, Owner and chef for Vilajoya Restaurant in Portugal awarded 3ed Michelin Star and is # 22 Best of the world.He was awarded his first Michelin star there in 1995. His guiding culinary philosophy is: "First the flavour, then the presentation. Federico Zanellato, Chef and Partner of NOMA Restaurant the #.1 Best restaurant in the world. He's trained at the best restaurant in the world, Noma (in Copenhagen, Denmark) and also the three-hatted Attica in Melbourne.
Money raised by the event will be donated to the Cabo San Lucas and San José del Cabo Firefighters, The Los Cabos children foundation and the Red Cross.
Tickets are limited and expected to sell out. Purchase your tickets well in advance
Restaurant's that is part of CANIRAC can participate in this venue. This year we will have a broader participation such as One and Only, Esperanza, Capella, Ventanas and other restaurants that are part of exclusive resorts. This year it's a one week event. We have integrated different events for ech day. We start with The Countryside Kitchen at Miraflores! You Experience Los Cabos Countryside kitchen lifestyle and traditional recipes. Dishes will be prepared with local Baja California Sur products all created by guest chefs. Fallowed by The Sunset Tasting Cruise. Experience a luxurious Sunset cruise and Special dinner created and prepared by two world-renowned chefs. Live music will complement the sunset arch cruise. Onether new event will be The Sabor a Cabo Beer Fest hosted at Medano Beach in Cabo San Lucas. Then a local favorite that is in San Jose the Wine & Art walk in the Art District in the heart of San Jose del Cabo. This evening you will try small bites and wine before choosing which restaurant's wine pairing menu best fits your palate for than evening. On Friday December 5th it's the Celebrity Chef Dine Around. This will be an amazing culinary creations prepared by the best chefs in the world. Wonderful creations will be within your reach for one night only! And of course our final and magno event will be hosted this year at the Sculpture Garden in Puerto Los Cabos. A selection of the world's finest chefs will gather for the Sabor a Cabo 9th Annual International Food & Wine Festival. Cabo's best local chefs will be preparing their signature dishes for you to sample at their displays.