Interview to Miguel Alonso Reyes, Fonatur gral director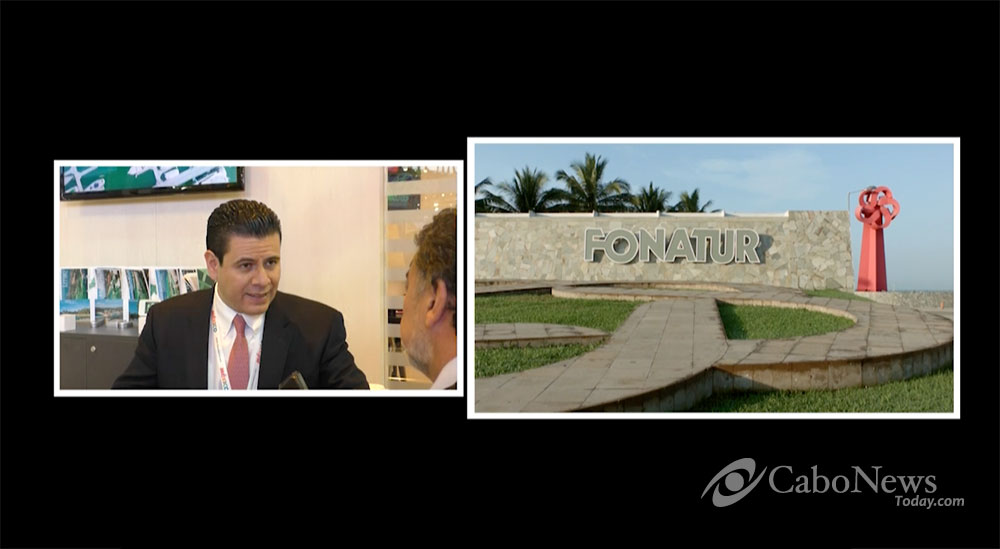 FONATUR is present as a year in this fair in Madrid so important, this platform where tour operators, travel agencies, hoteliers, airlines of most of the world have an appointment so that Mexico first through the pavilion of which we are part of This great Mexican tourist sector, we can strengthen the presence of Mexico, the projection and promotion of our great multicultural destiny of this great mosaic that is Mexico, of alternatives of diverse opportunities to visit it but specifically FONATUR we are in the permanent work of relation, mainly in The case of this fair, with the Spanish hotel industry, Spain has through its investors an important number of hotels in Mexico, we talk about well-known brands like RIU, Barceló, like Amelia, Iberostar, NH, Palladium, and other important brands of Spanish capital hotels that are in Mexico and that we have come first to ratify them that it is important that they are in the country, they have also confirmed their trust in Mexico but we have also offered them the one that they continue to invest in Mexico, in the enlargement Of hotel rooms in the destinations where they are already, or in new tourist destinations where FONATUR has a very consolidated presence, we speak of Los Cabos, of course we speak of Cancún, we talk about Ixtapa, Huatulco from other integrally planned centers but also in Our new stage of FONATUR in which we have shared the vision with Secretary Enrique de la Madrid, also integrate FONATUR a reedimensión in order to open beyond the fully planned centers that we can also work with cultural, heritage, The destinations where there are archeological areas, where there are magic villages and in them as we have also put our inventory so that those investors can continue to invest in Mexico.
Question reporter .- How could you explain in a simple way what FONATUR does to promote tourism infrastructure?
Of course, make available to them as investors from the US and some other parts of the world, the FONATUR model for forty-two years has been very successful in developing large projects, not short-term if not short , Medium and long term, these cases of Los Cabos, Cancun are very emblematic for our country, but where FONATUR has an inventory of territorial reserves in different points of the Mexican Republic, mainly in destinations of sun and beach where FONATUR also provides the accompaniment so that through the financing of the development bank and through the private banking can also be provided with very competitive cups in conditions very suitable for the international investor to see in Mexico, see in the tourism sector and see in particular the institution FONATUR an ally, a companion to give them all the facilities to guide, for if the investment is decided to do in Mexico that hopefully in the tourism sector because the times of the procedures are shortened and can in this way achieve very successful projects, FONATUR is a brand recognized in Mexico and also internationally as a business model, as a public sector private sector formula, public-private partnership that has worked very well and is in the process of development very emblematic that already mentioned.
FONATUR does depending of the destination, depending a little on the characteristics but becomes a partner for what contributes the land, the investor contributes what is properly the investment of the hotel and if necessary if the development bank adds this third partner or ally of Such that it can generate an investment in very competitive times but above all a very profitable investment as it has been throughout all these years.
Well we are particularly promoting other destinations that are part of the fully planned centers, we continue working with Baja California very closely, we are also working with Quintana Roo, Loreto, Puerto Escondido with great investment opportunities, we also talk about the case of Huatulco, We speak of the case of new Riviera Nayarit account of Litibú that are also interesting places where there is reserve, where there is inventory and where we put of course to the order to the institution, to FONATUR for any complementary work that we can do.
Of course Mexico is a great destination, we invite you to visit us, to continue investing in Mexico, it is a destination that has everything, which also has a component that is not always found in other destinations that is the component d she hospitality , The component of this desire to continue to strengthen ties, where we open our arms to welcome the investment, to welcome visitors from different parts of the world and in it our determination, our desire, the president, the secretary of Tourism to continue generating this great platform that is Mexico so that it remains a good destination from all points of view.
(PARA CABONEWSTODAY.COM) Voice over: The General Director of Fonatur spoke of his next visit to Los Cabos…
First a big greeting to that great state, with a great wealth that is still offered to the world and we want to continue joining in order to continue detonating, developing, unlocking some issues that like any destination we have to solve, we have to solve, we will be in Beginning at the end of the month of January beginning of February visiting them, we will be making a visit to Los Cabos, we will be seeing everything around. I have been a month and a half in the direction of FONATUR and one of the important topics that I received from the portfolio of projects and topics and precisely everything that has to do with Los Cabos, with Estero, with this theme that we must solve soon and where we are joined and very involved throughout the institution.