Spring breakers and nightlife in Los Cabos 2019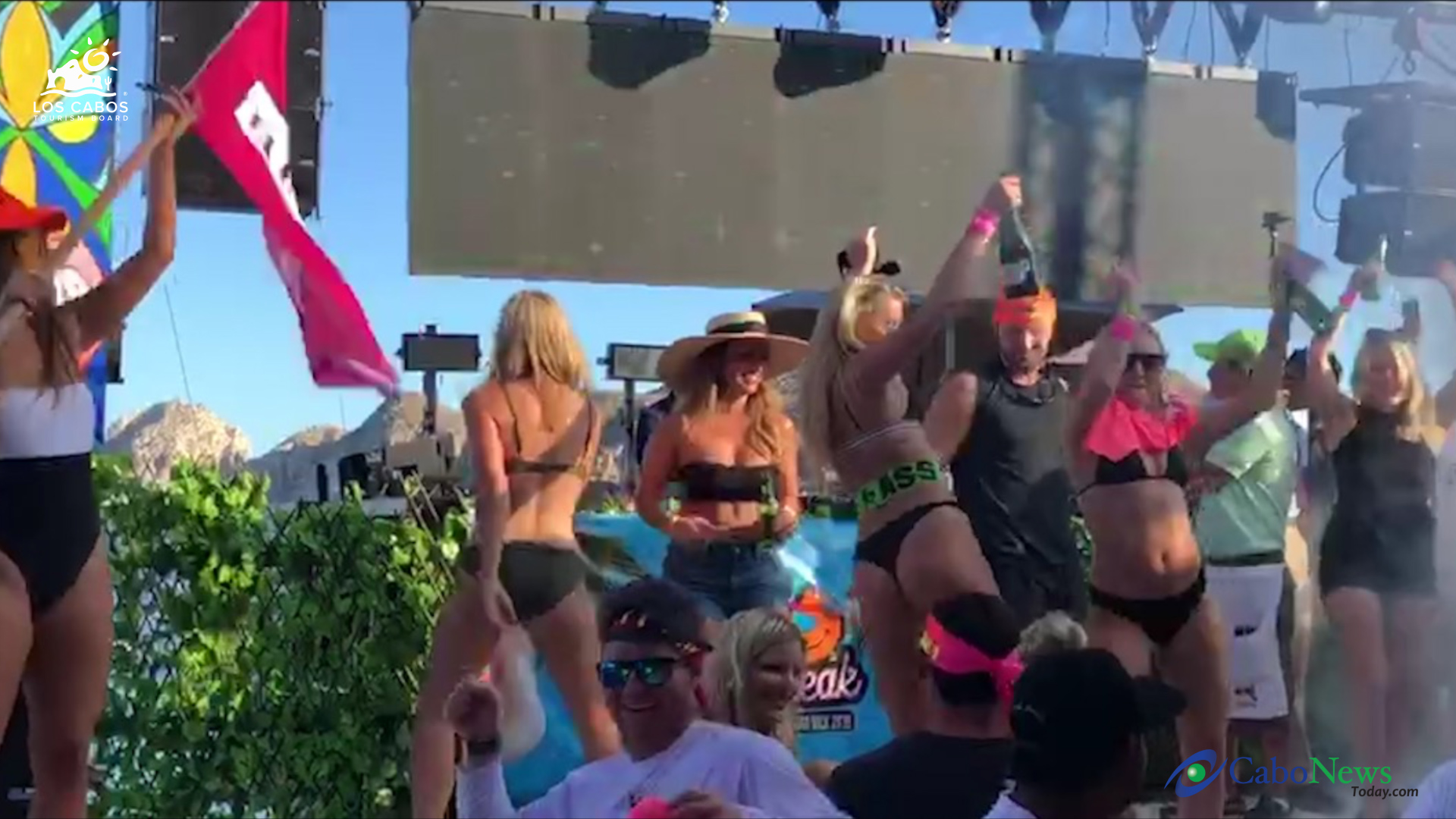 Fully enjoying the moment and still arriving in Impressive amounts, the so called "spring breakers" who are mainly university students the United States or Canada visiting Los Cabos, Baja California Sur.
More than 18 thousand hotel rooms in this tourist destination, all register high occupancy.
Paloma Palacios. President, Hotel Association, Los Cabos: "... We are expecting to close March 2019, with an approximate occupation of 80% ... including schools from the United States, we're talking about 20 thousand students"
As sun sets beach side bars and cantinas start the party rolling, to later be continued by the unmatchable nightlife of Cabo San Lucas. Even though all nightclubs and bars in Los Cabos follow established security measures to insure that only those 18 years of age or older can be served alcoholic beverages; there are some younger who try to bend the rule.
Gabriel Valladares. Restaurant-bar Operations Manager: "... if they aren't of age, we then give them a minors bracelet and we take special care of them as well, so that, if we observe they insist or want access alcohol; we politely invite them to leave because they can no longer be here ... "
When nighttime arrives down town Cabo San Lucas becomes a great party place where streets are flowing with collage aged vacationers as well as the clubs where you can enjoy the music, the drinks, the dancing and the view, till the wee hours of the night.
Pablo Marrón, Bar Owner: " Truth be it Cabo San Lucas has a very healthy spring break, wild, but very healthy at the same time ... we are all well trained here to control minors as well as any kind of annoying situation."
Julia, from California: "I am having the best time of my life, i am in senior springbreak, i am an university student."
Veronica, from Canada: " I love here, the poeple are so nice, it is so much fun, like the parties and stuff, it is so much fun."
Kali, from India: "I love Cabo…, i am going to come to Cabo every year."
Veronica from Minnesota: "Cabo yes very well, how beautiful. The boys are so handsome. A lot of fun… Minnesota! Go Goph's!"
Lisa from Rosario, Baja California: "Good, it's really good here, I like it so much, it's my first time here but, it's smooth here, I like it… "
It's expected that with the presence of spring breakers as well as the upcoming Easter holiday season hotel occupancy and economic runoff will surpass those of previous years for the area.
With information from Armando Figaredo, translation by Tony Perez for Cabo News Today.