SWIMMING IN THE OPEN WATERS OF LOS CABOS 2019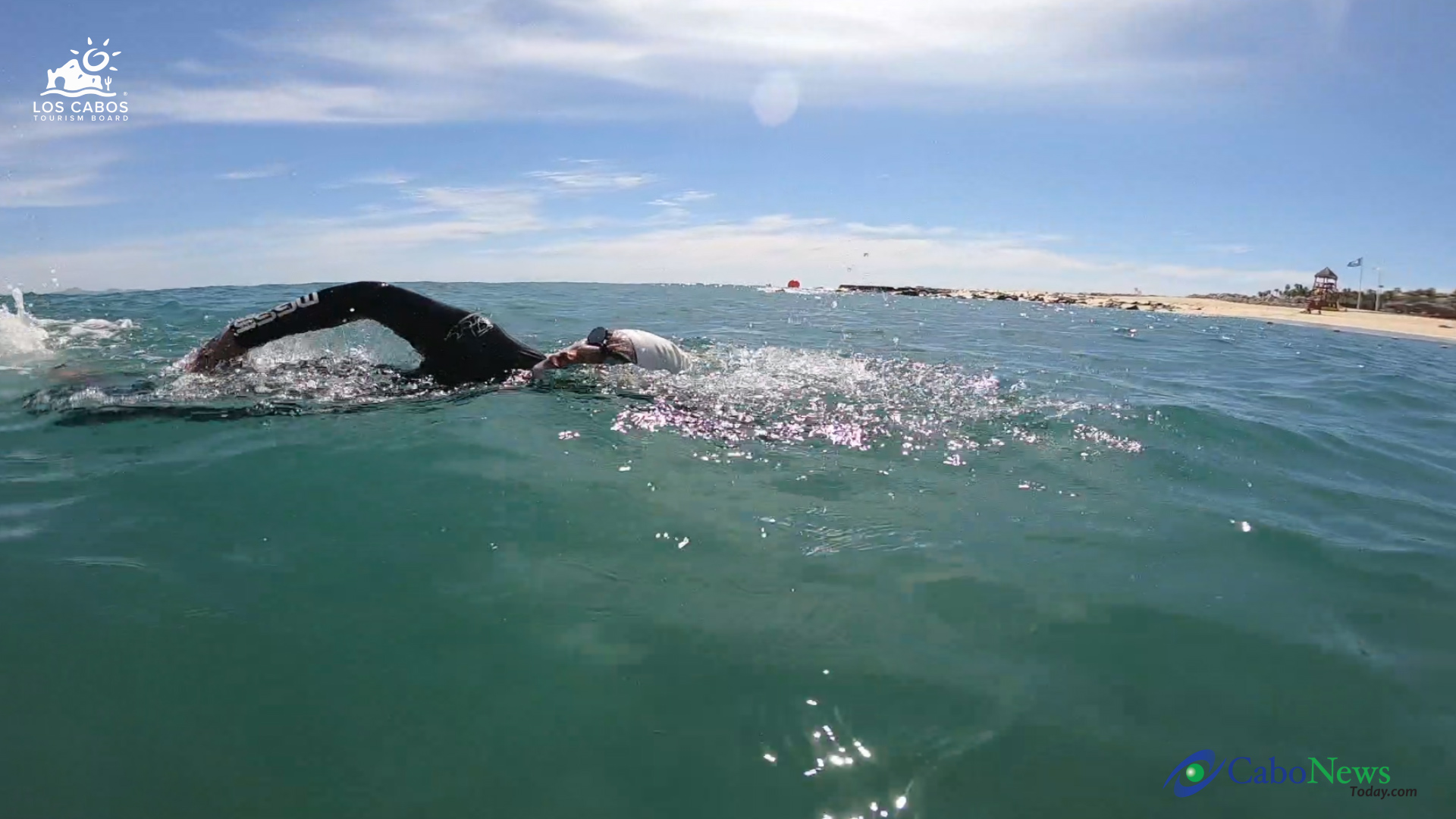 Swimming whether practiced in closed or open air swimming pools is considered one of the most complete activities there is to stay in shape. However, swimming in the sea has become one of the most attractive and challenging activities, especially for those who have a fears or phobia they want to overcome.
Manny González, Swimming Instructor: "…for us there are no limits, we believe you can start at any age ... we have swimmers between 4 and 72 years of age ..."
Not only is enrolling in a swimming school to be encouraged, to gain more confidence in the sea, but also "the challenge" is to participate in swimming competitions.
Manny González, Swim Instructor: "... sometimes competition intimidates many people and it can reject or limit many people from approaching this ... for us the first swimmer to the last swimmer mean a lot, in fact we appreciate the last swimmer in a whole lot, because we know they are the ones that make the most effort to overcome that first fear, the first event ..."
Maren Wünsche, swimmer (59 years old): "... I have overcome my fears, my doubts, and it's always a challenge. And the sea is never the same, today we were lucky to have a very calm sea and very beautiful and here I have my medal ..."
Atina Altamirano swimmer (21 years old): "... many people are afraid of the sea, but nothing really happens, once you are in the water it's the best experience that can happen to you ..."
For some, swimming has helped overcome personal fears, traumas and even serious illness as with Celia, a cancer survivor.
Celia Villalobos, swimmer (61 years old): ".... Swimming gives you discipline, discipline for life, because there are challenges you face and more in the sea, In a pool the environment is controlled, it's a discipline that shows you to face anything, I am a cancer survivor and I believe that having played sports, helped me out in many ways, my doctor told me ... "
For others it becomes a part of their life. As with Jaime Lomelín one of Mexico's well-known swimmers, Lomelín crossed "solo" the English Channel in 1990, in 2015 swam the Manhattan Island Marathon around the big apple's pride and joy holding that year's record and in 2017 swam the Catalina Island Channel to San Francisco at night and surrounded by sharks for a better than average time of 11:53:44. Lomelin earned himself the Triple Crown of Open Water Swimming distinction. He tells us a little about his memories of Manhattan …
Jaime Lomelín: Open Water Swimmer: "... its 46 kilometers, and I was in second place behind an Australian 20 years younger; that was 4 years ago in 2015, it's been the best Mexican time, and that record still stands today ... I'm 56 years old and will continue swimming until the body endures ..."
Swimming schools located in places like Los Cabos have become more and more popular. The equipment required to join is minimal, and family and friends gather in a healthy environment with individual challenges that also favor personal development.
Translation by Tony Perez Dillon