Latest News: International flights resumed activity to Los Cabos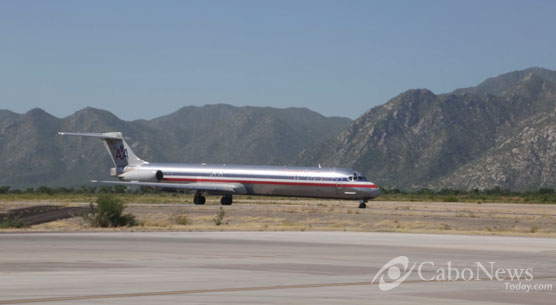 This past Saturday October 18th, more flights arrived to Los Cabos International Airport.
Six American Airlines flights were scheduled to arrive to Los Cabos International Airport. Thanks to high demand, 7 flights arrived, all full! Los Cabos International airport received flights from all over the United States such as Phoenix, Los Angeles, and Denver.
An emotional welcome awaited for the passengers at Terminal 2 at the Los Cabos International Airport, with representatives from all levels of the tourism industry here, welcoming and cheering and promoting the banner of the campaign slogan, Los Cabos Unstoppable.
Some of the people who attended this reception were the State Secretary of Tourism Ruben Reachi; Director for American Airlines in Latin America Phil Olivieri; and Director of Los Cabos Tourism Trust, Eduardo Segura.
Also present to offer a warm welcome to the arrivals were chefs and staff from all kinds tourist activities such as surfing, fishing, camel rides, spas, golf, plus waiters, maids and staff from all sectors of tourism.
Ruben Reachi announced some of the new flights and airlines flying to Los Cabos: United Airlines flying from Washington, Alaska Airlines flying from Portland, and Delta flights from San Diego. Each of these flights willhave three arrivals each week. All of these are new flights that were negotiated prior to Hurricane Odile. Also coming in mid-December is Delta airlines flying from John F. Kennedy from New York and Delta flight from Washington.
Everyone at the reception received t-shirts and a bag of souvenirs and information about Los Cabos.