Award ceremony for the CFE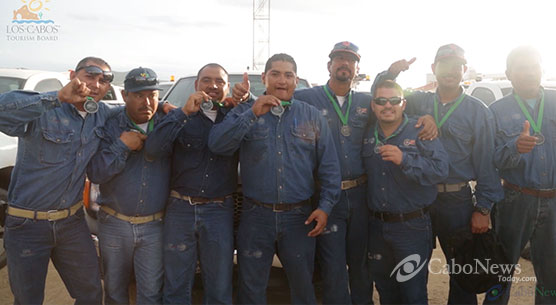 An award ceremony was staged for the workers of CFE (Federal Electric Power Commission) who are the heroes of Los Cabos.
Workers from CFE (Federal Electric Power Commission) who helped reinstalling 100% of Cabo's electric energy were recognized by citizens with a commemorative medal, as evidence of their gratitude.CFE (Federal Electric Power Commission) had more than 5,000 employees in BCS working round the clock to bring things back to normal especially in Cabo where more than 5,000 electric posts were knocked down.
According to the CFE hurricane Odile has been the most devastating weather phenomenon to electric infrastructure in the recorded history of the CFE. The event brought total darkness to the municipality of Los Cabos. After an 18-day ordeal created by hurricane Odile we can now proudly announce that electricity has been restored 100% in record time!
Last Friday October 3ed at 7:30 am a group of citizens, civil associations and entrepreneurs arrived at the CFE Yenekamu camp in Cabo San Lucas to present medals to the "heroes" who brought light and restored hope back to the destination. These hard working men were surprised and touched by the gratitude expressed by the citizens of Los Cabos.
They kindly and humbly responded with much gratitude and a thankful for such a great gesture. Many smiles and tears were had. Most of them responded by saying… We were only doing our jobs…. Thanks to them we regained overwhelming relief after three weeks of darkness from the devastation that Hurricane Odile left. The worst hurricane to ever hit Los Cabos.