Hours & Contact Information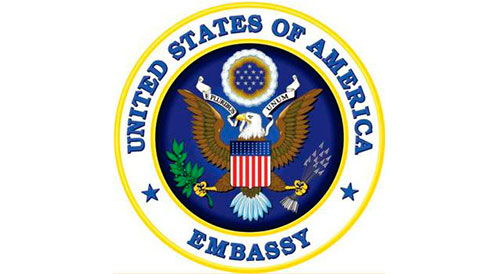 Address:
Embassy of the United States in Mexico City
Paseo de la Reforma 305
Colonia Cuauhtemoc
06500 Mexico, D.F.
Telephones:
From Mexico:
Tel : ( 01-55 ) 5080-2000
Fax: ( 01-55 ) 5080-2005

From the U.S.:
Tel: 011-52-55-5080-2000
Fax: 011-52-55-5080-2005
Working Hours (Central Time):
Monday-Friday (except U.S. and Mexican holidays)
U.S. Passports and Citizenship and Notary Services

Room 106 ext. 4244

Passport Services: 8:30 a.m. to 12:00 p.m. by appointment only
Notary Services: 2:00pm to 3:00 p.m., Monday, Tuesday & Thursday by appointment only
American Citizens Services: ext. 4780, 8:30 a.m. to 4:30 p.m.

Emergencies and Special Consular Services: Ext. 4440

8:30 a.m. to 5:00 p.m.
For after-hour emergencies, please call the Embassy at 01-52-55-5080-2000, press "0", and ask the switchboard operator to connect you to the duty officer.
The Consular Section is normally closed to the public twice a month beside the above-mentioned holidays for administrative purposes, except for emergencies. For the remainder of 2014 administrative closure dates, visit our Consular Calendar.
Consular Agencies
Los Cabos
(An extension of the Consulate in Tijuana)
Las Tiendas de Palmilla L-B221, Km. 27.5 Carretera Transpeninsular 
San José del Cabo, Baja California Sur C.P. 23406
Phone:(52)(624)143-3566  
Fax: (52)(624)143-6750
E-mail:This email address is being protected from spambots. You need JavaScript enabled to view it.
| | | |
| --- | --- | --- |
| January 1 | Friday | New Year's Day |
| January 18 | Monday | Martin Luther King's Birthday |
| **February 1 | **Monday | **Anniversary of Mexican Constitution |
| February 15 | Monday | Presidents' Day |
| **March 21 | **Monday | **Benito Juarez's Birthday |
| March 24 | Thursday | Holy Thursday |
| March 25 | Friday | Good Friday |
| May 1 | Sundat | Mexican Labor Day  |
| May 5 | Thursday | Battle of Puebla |
| May 10 | Tuesday | Mother's Day (Mexico) |
| May 23 | Monday | Memorial Day |
| July 4 | Monday | Independence Day |
| September 5 | Monday | U.S. Labor Day |
| September 16 | Friday | Mexican Independence Day |
| October 10 | Monday | Columbus Day |
| November 2 | Wednesday | All Soul's Day |
| November 11 | Friday | Veterans Day |
| **November 21 | **Monday | **Anniversary of the Mexican Revolution |
| November 24 | Thursday | Thanksgiving Day |
| December 26 | Monday | Christmas Day |
| January 2, 2017 |  Monday | New Years Day |
Holidays 2016
 U.S. Embassy Visits to Correctional Facilities in Matamoros and Reynosa Paves Way for International Accreditation
Reynosa, Tamaulipas, January 22, 2016 - Officials from the U.S. Embassy in Mexico City and the U.S. Consulate General in Matamoros yesterday concluded assessments of State correctional facilities in Matamoros and Reynosa. They later shared their findings with Nora Angelica Balderrama Cano, Under-Secretary for the Tamaulipas State Penal System. These visits are an important step towards Tamaulipas State correctional facilities achieving international accreditation by the American Correctional Association (ACA), a measure that was advocated by Director of Mexican Correction Facilities Eduardo Guerrero Durán at the National Penitentiary Conference in December 2015 and supported by Governor Egidio Torre Cantu. 
To date, officials from the U.S. Embassy have conducted assessments at six State correctional facilities in Tamaulipas, including the TUTELAR juvenile establishment. It is expected that in the next three months, one or more will commence the process of achieving ACA accreditation. In order to obtain ACA accreditation, facilities must comply with 40 mandatory core standards and at least 90% of a further 97 non-core standards in the areas of safety, security, protection of property and people, human rights, order and administration of correctional institutions. According to the officials, U.S. advisors will provide training and share knowledge and skills with Mexican prison officials to help them successfully achieve ACA accreditation.
Since 2009, under the Merida Initiative the U.S. government has provided approximately USD 25 million in equipment, training and technical assistance to support correctional reform in Mexico. Much of this support has focused on assisting federal and state penitentiaries to achieve ACA accreditation. To date, seven federal facilities and 16 State facilities have achieved ACA accreditation, including the Federal Correctional Facility (CEFERESO) in Matamoros. The U.S. government plans to assist Mexico in achieving accreditation for all of its federal correctional facilities by 2017, with a long term goal of achieving accreditation for all of Mexico's 387 federal and state correctional facilities.
The Merida Initiative is a bilateral security cooperation agreement between Mexico and the United States. Through eight years of implementation, the Merida Initiative has led to greater cooperation between the U.S. and Mexico, and has provided tangible support to Mexico's law enforcement and judicial institutions, helped to counteract the illegal trade in narcotics, and strengthen border security. To date, the Merida Initiative has delivered more than USD 1.4 billion in equipment, training, and capacity building assistance to the Government of Mexico.
Travel Warning
The U.S. Department of State renewed the Travel Warning for Mexico on January 19, 2016. The Department of State reviews Travel Warnings about every six months or as needed to ensure they remain valid and up to date. Below is more information about Travel Warnings and what has been updated in the current version.

Background on Travel Warnings
The United States issues Travel Warnings for many countries in the world.  There are currently 37 Travel Warnings. They are generally reviewed and updated every six months.

The Travel Warning for Mexico is uniquely detailed and includes state-by-state assessments that provide information on security conditions in specific regions of Mexico.

Travel Warnings do not reflect the nature of our bilateral relations with a country.  They are part of our commitment to inform and protect U.S. citizens traveling and residing abroad.

We strongly encourage U.S. citizens, whenever they travel abroad, to enroll their plans on www.travel.state.gov using the Smart Traveler Enrollment Program (STEP), and to read the Country Specific Information also found on the site.

Background on the U.S.-Mexico Relationship

The U.S.-Mexican bilateral relationship is strong and vital.  Our close partnership and the spirit of cooperation between our countries reflect deep institutional, economic, personal, and cultural bonds.

Our countries share a 2,000-mile border, which handles several hundred thousand crossings daily.  On average, in 2014 more than $1.6 billion dollars in trade crossed the border every day, making Mexico our third largest trading partner.  Our vital relationship involves every U.S. cabinet agency, and we are more committed than ever to closely collaborating as partners to achieve security and prosperity for citizens of both our countries.