Ivo Karlovic win the first Abierto Mexicano de Tennis ATP 250 at Los Cabos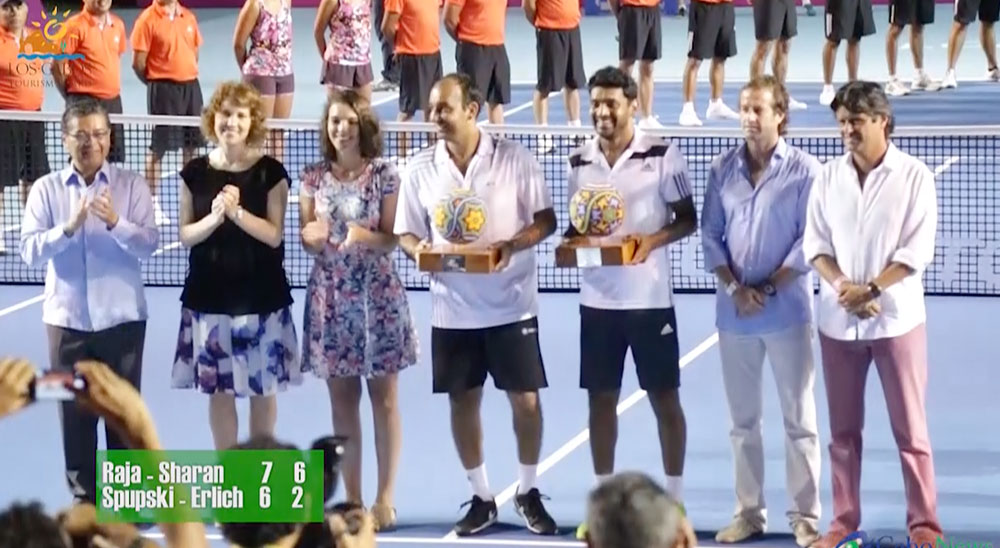 Scoring for his world ranking the Croatiian Ivo Karlovic took the match in two sets 7/6 -6/4 over his opponent, 37 year old Feliciano Lopez of Spain.
The powerful serve of Karlovic, currently ranked 24 overtook the 18th ranked Spaniard.
Ivo Karlovic, winner of the first Abierto Mexicano de Tennis ATP 250 at Los Cabos: It was difficult match at the beginnin, he was doing very well, it could gone either way the match, I was a little bit lucky at the end of the first set, and that kind to get me confidence in the rest of the match
Feliciano López, 2nd. Place of the first Abierto Mexicano de Tennis ATP 250 at Los Cabos: First I missed me get better in general, I think that neither yesterday nor today my serve worked as it should, the fisrt set I that I could have won it
In the doubles final, Pujab Rajaa and Rajii Sheran from India beat the duo of Great Brittians Ken Supsky and from Israel Jonathan Erlichs 7/6 6/2 . In the first set the team from India were down 5/2 but rallied after tying at 5. Winning in sudden death, they entered the second set with great confidence taking them to the win.
With more than 12,000 spectators at the event , the fans of Los Cabos and the visitors enjoyed 5 days of excellent world class tennis, an event whose purse was more than 800,000 dollars.
Among the players of the ATP who participated in Los Cabos was Australian Bernard Tomic, ranked number two and among the top 20 players in the world, Tomic was eliminated by Serbian Tujan Rajovic in the first match.
Among the top players were Nicholas Amagro , Fernando Verdasco and Marcel Grannolers of Spain. As well as Ukranian Alexander Dolgopolov and frenchman Julianne Benneteu.
For the next five years Los Cabos will proudly be the headquarters of the ATP 250 tournament.
VIDEO:

PHOTO GALLERY: