4th International Ironman in Los Cabos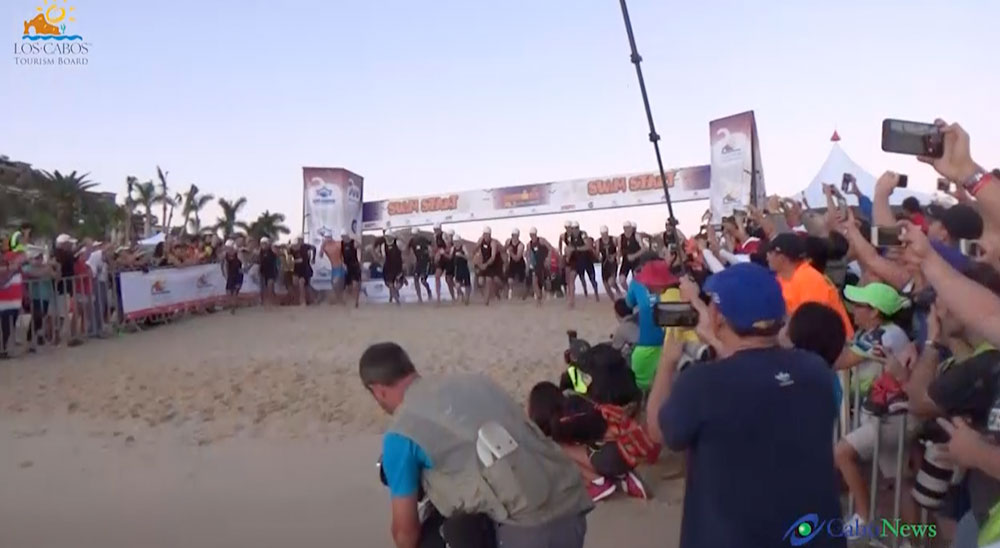 The 4th edition of the international Ironman took place in Los Cabos with the participation of over 1,500 athletes from 41 different countries.
Jaime Cadaval, organizer of the 4th Ironman them Cabos
" Los Cabos is one of the 2 destinations in the world that have in the same event in 2 different distances, full Ironman and Ironman 70.3 or half Ironman"
For the full Ironman there were more than 400 athletes who had to swim 2.4 miles, and then bike ride for 111 miles followed by a 26.2-mile marathon run.
Those who competed in the Ironman 70.3 swam a mile, 55 on bikes and a 13.1 mile run to the finish line.
First place in the Ironman 70.3 went to 21-year-old Mexican - Mauricio Méndez with a time of 3:52 hrs.
In the women's branch 34-year-old Canadian - Angela Naeth finished with a time of 4 hours and 19 minutes.
Mauricio Méndez (Mexico) 1st place men's:
"In general the course was beautiful, difficult, pretty heavy with the sun´s heat, I´m eager to continue ahead and make history¨.
Angela Naeh (Canada), 1st place women's: (translation): "I loved the route, was super claimant simply a quantity impressive of volunteers supporting each half mile, with ice, water, any thing you wanted, it was very helpful, without that I don´t think that had finished so well"
For the complete test the Mexican 23 year old  Luis Pelcastre with a time of 9 hours 45 minutes was the First Place,
And; 31 years old, American, Samantha Mazer with a time of 10 hours 58 minutes was also a winner.
Ioshi Himitsu, Japan: "because I like, I like a lot...
Many years... My husband supports, and yea he doesn't mind I´m doing this.  Yes, training always, ridding a bike, running..."
Ron Romain, California:
"This is my fourth year and always good, very good".
Pamela Paro: Guatemala:
"This is my first complete challenge, I expect to finish between 12 and 13 hours"
Adrian Martinez, San Luis Potosí:
"We train all year long because it's a very demanding path"
Rubén Reachi, Los Cabos.
"How long will it take you to do the 70.3?
In 6 and a quarter, we´ll see if it's true.
Good luck.
Thanks".
Brenda Owen from Vancouver.
Q. Why did you decide to participate  here?
A. Becouse I like the warm weather. I train prity much all year for this one, yea something every day.
Q. How long do you think you´re going to take?
A.If I have a good day twelve hores.
Q. what about Los Cabos, do you like it here?
A. It´s beautiful here.
James Sullivan from Colorado.
It´s  a season ending race a chance to kind of gearup for next season. A good shot a Kona. Just cause I love doing them.
Q. How long do you think your going to make it in?
A. Weather permitting I´m looking at sub ten, we´ll see, we´ll see how the day goes.
Amber Keaton fron Alberta.
Q. What do you think your family thinks about you comeating?
A. I think they´re very proud, my mom is here today and she´s my biggest supporter. 
Q. How long do you think it´s going to take?
A. eleven and a half hours.
Dominic Girardon...France
Where do you come from?
France.
What part of France?
Nice  Nice the beautiful.
Marilú Moreno Rubio, Tijuana:
"I liked the Ironman Los Cabos. Its heavy but worth it due to the landscape and all San Jose and Los Cabos has to offer."
With radiante sun and temperature of 93 degrees and more at times, the men and women of iron were constantly cheered on by families and friends of Los Cabos.
In this 4th edition of the Ironman Los Cabos, 50 places were awarded to categories by age for the World Championship Ironman 2017,
And 40 places to categories by age for the 2017 World Championship Ironman 70.3,
as well as cash prizes of 50 thousand dollars for both categories.
It´s estimated that this grand sporting event left a profit for Los Cabos of 4.5 million dollars, in addition to a strong media presence  for the destination at an international level.
Armando Figaredo Cabovision
Tony Perez For Cabo News