Jet pack, Fly bike and Jet blade (water activities in Los Cabos)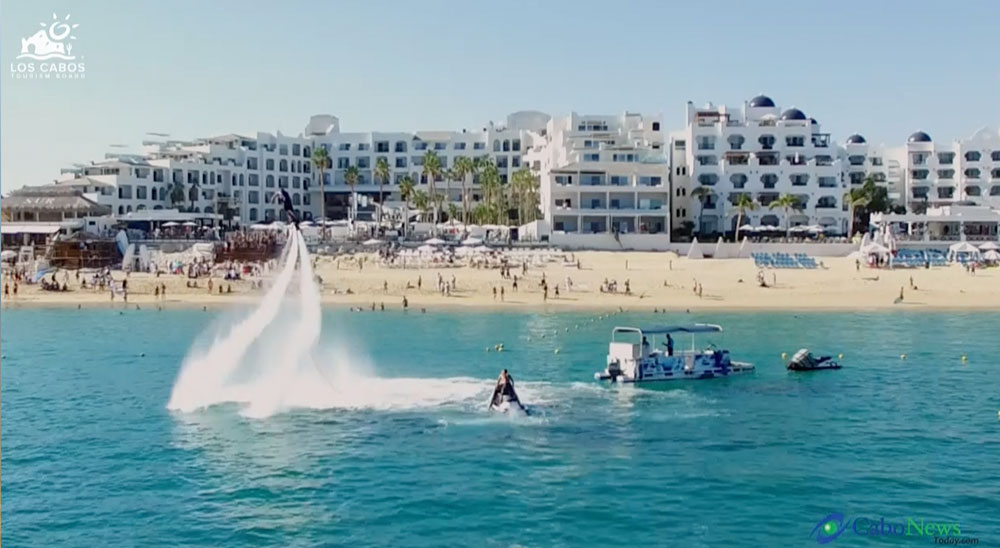 During the summer holidays, tourists who love new emotions can find them, in front of Medano Beach in Cabo San Lucas, Baja California Sur, where several new options of thrills are offered, like soring to almost 10 meters over the ocean propelled by water jets coming from a Jet Pack.
Carlos Noriega, tourist service provider: "... the equipment is a vest, which has five streams, which are placed around your chest ... and it has a clasp that when you feel like danger or something, you pull it and automatically It frees you from the gear and you can float ... "
For the audacious who dominate a sense of balance, there is the Jet Blade that is similar to the Jet Pack but the balance is controlled from the feet.
Carlos Noriega, tourist service provider: "... is a board where we put your feet in boots like these, then by means of jet propulsion you go up ..."
Those who are not complete sure can use the Jet Bike which is a device that simulates a bicycle mount and offers riders more confidence. In either case propulsion is controlled from a jet ski.
Carlos Noriega, Lender of tourist services: "... acceleration is controlled by the instructor all the times ... the only thing you have to control is the balance. All the instructions we give users before they get to do anything ..."
Excitement for users ranging in ages from 8 to 70 years young, but there are restrictions for pregnant women or people with neck problems.
Samantha, 12 years old tourist: "... yes, it feels very, very neat, it's a very, very cool experience and then yes, I loved it, I liked it a lot, sure I would go up again ..."
Sergio, Mexico City tourist: "... once up high I lost control, but it is very, very, very impressive how it elevates you ...
Surly a fun challenge of balance and control of the water jets coming out of the hoses. A whole new experience over the ocean waves in Cabo San Lucas.
With information from Armando Figaredo, I'm Tony Perez for Cabo News Today.