Abraham Levy, crossing the atlantic by rowing from Spain to Mexico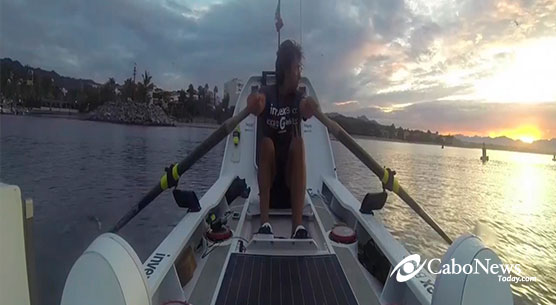 Abraham Levy, a young man who in 2008 kayaked 6,800 miles along the coasts of his country, will try to row alone from Spain to Mexico in a boat equipped with the latest in 21st-century navigation technology. The adventure of rowing across the Atlantic will begin on Oct. 12, 2013 at Puerto de Palos, Spain, and will end six months later, in March of 2013 in Cancun, Mexico.
Abraham Levy: "I want to do what the great explorers did and set out from the Old World, leaving Puerto de Palos en route to Mexican lands. More people have been in outer space than have crossed the ocean under their own steam."
Abraham Levy visited Los Cabos recently and decided to try his row boat as a pre-expedition of his upcoming Spain to Mexico challenge. He departed from El Ganzo Hotel in San José del Cabo and crossed over to Marina Rivera Nayarit.
"Why did you decide to try Los Cabos as a pre-challenge to cross over to Marina Rivera Nayarit?"
Levy: "Any excuse to visit Los Cabos is a good one. I love the Baja peninsula and also thought it would be a good idea to try out my new row boat to prepare for the major event leaving from Spain to Mexico next year."
The boat is a lengthened egg shape and will be equipped with navigation gear, GPS, satellite phone, a desalinization plant, a stove, and solar panels to charge the lithium batteries. The carbon fiber boat weighs 400 pounds, measures 24 feet long and 5 feet abeam, has a hermetic cabin and 10-foot oars of the same material.