The 2nd Annual Half-Marathon of Los Cabos concluded with strong participation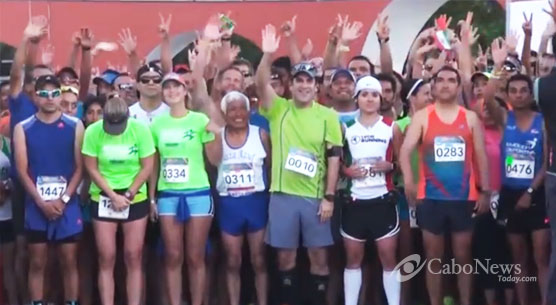 More than 1,600 runners participated in the annual race of the Second International Half Marathon of Los Cabos, Cabo known as "Run". It was held on Sunday February 8.
The registration of participants took place a day before the race, as well as a press conference chaired by the Secretary of State Tourism, Ruben Reachi. Roxana Siva (Event Director), Jon Hughes (Director of Disney Marathon in Orlando) Jeff Galloway (Official Coach for Run Disney), and Benjamin Paredes (marathon runner and Olympic medalist) were all present at the press conference.
At exactly 7am after singing the National Anthem and after the words of welcome from Secretary Reachi, more than 1,500 runners of all ages began the race in downtown San José del Cabo.
The half marathon started on Boulevard Mijares and continued on Paseo San José. The route continued toward Puerto Los Cabos, along the Marina and the town of La Playita, returning by the same route, crossing the Centennial Blvd. next to the Estuary of San José del Cabo to reach the Finish Line. Men and woman from all ages participated, with runnerd from 9 years of age to veterans over 60.
First place went to Salvador Guerrero with a time of 1 hour 12 minutes 55 seconds; Second place went to Pablo Olmedo with a time of 1 hour, 16 minutes 19 seconds; and local runner Alejandro Garcia Rangel finishing in Third in 1 hour, 16 minutes, 44 seconds.
Salvador Guerrero: "Very nice route, one of the best for sure, not because I have won but because it is one of the most beautiful I have seen in all of Mexico."
In the women's division First Place went to local Miriam Ramirez for the second consecutive year with a time of 1 hour 32 minutes, 4 seconds, improving her time in 2014 by 2 minutes. Second Place went to Marissa Shunger, an American living in Los Cabos at 1 hour, 32 minutes and 2 seconds. Third Place went to Tatiana Vertiz, finishing in 1 hour, 33 minutes and 30 seconds.
Miriam Ramirez: "It is a bit tough, uphill it's very steep but awesome. The truth is I wanted to do less time, but it was still good timing. It is an incredible event, congratulations to all."
Marissa Shunger: "I loved it, it feels wonderful. I connect with the earth, the earth energy and the energy of everything around me, that's what I love. Absolutely, come out, jump and get moving, that's what it's all about."
The marathon runner and Olympic medalist Benjamin Paredes spoke about the event in Los Cabos.
Benjamin Paredes: "A great race, sensational, the ecological part and the land is wonderful, nice, very nice scenario, I congratulate all of you. The truth is that it is a very recommendable Race, really cool, excellent organization and welcoming people."
As in the first Half-Marathon 2014, Vanessa Hoppenkothen, one of the leading conductors of Televisa sports, was one of the guests.
Vanessa Hoppenkothen: "Very excited! This is my fourth Half-Marathon, the second in Los Cabos. The sun finally came out--really nice tour. Well done!" The Secretary of Tourism for the State highlighted the growth that this event has had in just one year.
Rubén Reachi: "Extraordinary, the people are enthusiastic, a lot of runners. It's an extraordinary event and there will be more right? Los Cabos can handle anything with God's will and with everyone who makes Los Cabos this great place."
He also had the participation of 250 children representing a significant contribution to the sporting future of Los Cabos.
This year's event exceeded the number of participants from 2014 with a unique family atmosphere and dissemination at national and international levels, achieving a great tourist promotion for Los Cabos.