A recap of 2013 Bisbee's Black & Blue Marlin Tournament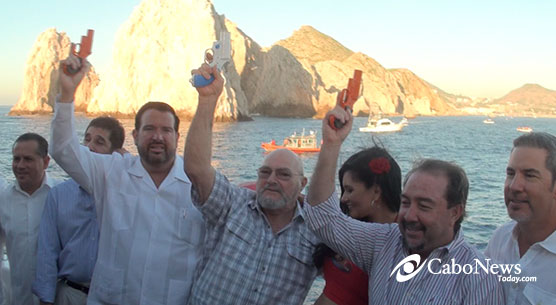 Bisbee's Black & Blue Marlin Tournaments have been taking place in Los Cabos for over 30 years. Bisbee's currently produces three tournaments - Bisbee's East Cape Offshore in Buena Vista which takes place each July, the Los Cabos Offshore Charity Tournament, and the Black & Blue Marlin Tournament which take place every October in Cabo San Lucas. The Bisbee's Black and Blue Marlin Tournament is the richest billfish tournament in the world.

"What can we expect in the next three days of the tournament?"

Local Organizer of the The Black and Blue Marlin Tournament, Cliserio Mercado: "With 116 boats registered and 4 hrs. away from final registration, with close to $3 million USD in prizes, this tournament will be a huge success. There will be some big fish being caught in the next 3 days. We expect it to be great!"
"What does this tournament mean to you and for the people of Los Cabos?"
Congressman and representative of the State of Baja California Sur, Alberto Treviño: .."Well not just for me but for Los Cabos, I had the opportunity to talk with Mr. Bob Bisbee and he has been here for over 45 years facing all types of situations. Some have been difficult while others have been successful. He is still here! This tournament has become an icon for Los Cabos and for the people; this is a great tool to promote Los Cabos as a fishing destination!..."
Secretary of Tourism Ruben Reachi: "We are very proud to hold this event here. "…This represents the most important sportfishing tournament in the world. It's part of the image of Los Cabos we need to show the world. As part of the state government we need to continue to support this tournament. I want to invite everyone to visit Los Cabos to enjoy this excellent sport…"
There have been many dramatic wins throughout the Black & Blue's 33-year history. But 2013 will always be remembered as the year of the lady angler.
Linda Williams and her crew aboard "II Success" captured first place overall, after boating a 774-pound blue marlin on Friday. That fish also turned out to be the biggest of the week and the largest ever weighed by a lady angler in the history of the B&B. It earned a payout of $368,675 out of the $2.9 million in overall prize money available.
First place in tournament Linda Williams: "…This was the fish of a lifetime and one definitely on my bucket list, especially in the Black & Blue," a tired Williams said afterwards. "I love this tournament and I love the people…"

Martha McNabb and her "Retriever" team won second place overall and second place jackpot. Her 525-pound blue marlin was worth $1,185,862.
The Black & Blue is the last event in the Bisbee's Baja tournament series. Some of this year's sponsors are Cabo Riviera, Baja Cantina, Wyndham Resort, Baja California Sur and Los Cabos Departments of Tourism, Puerto Paraiso Mall, Hotel Buena Vista Beach Resort and numerous other benefactors adding their support.
In addition to handing out nearly $3 million in prize money Saturday evening, the Black & Blue gave away more than $200,000 to local and international humanitarian organizations, including Casa Hogar and Reel Life International. Silent and live auctions also generated additional funds for RLI and The Billfish Foundation.