Los Cabos Open of Surf 2017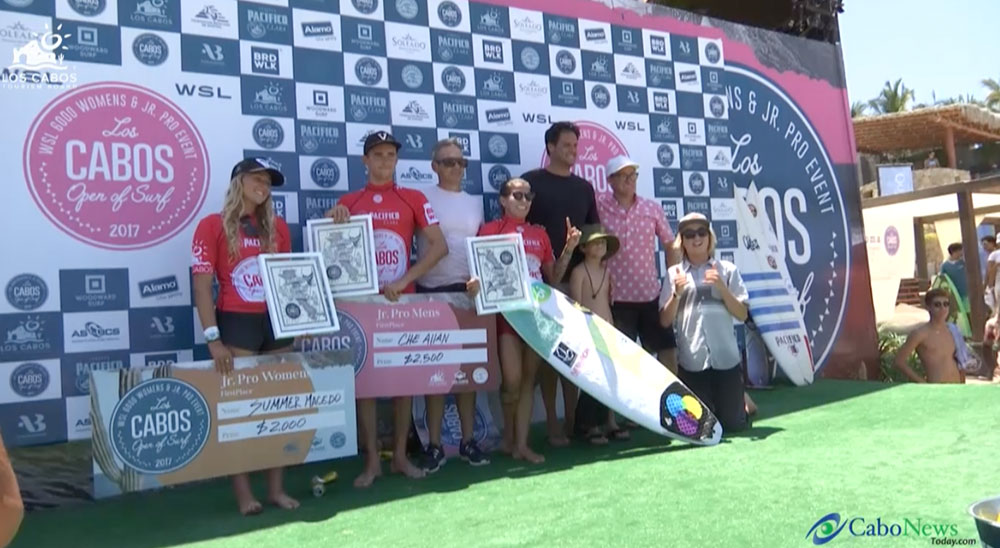 Surfs up and with great success during June 2017, the Los Cabos Open of Surf - fifth edition took place attracting more than 200 national and international competitors to this World Surf League sanctioned event.
Silvana Lima, who has competed here during the last four years, each time occupying one of the 5 top rankings, this time succeeded in achieving the undisputed first place crown as female winner of the Los Cabos Open of Surf 2017.
Silvana Lima, Tournament Female First Place Winner: "... I'm very happy, it's my fourth time here and every year I've had good results, I'm very happy for this victory and thanks to everyone here in Mexico. I hope this event isn't over, it's the best event of the year and the people here are just perfect. Thanks to all ... "
All main beach destinations in the world have similar tournaments, but the Los Cabos Open of Surf is certainly the one, most sought after not only for its waves and the superb climate, but also due to its natural beauties, top quality Hotels, service and primo gourmet food and gastronomy in general.
Abelardo Juárez, Event Organizer: "... People are fascinated. It's a very special experience for them, these athletes travel throughout the world attending events where the waves can be very good but sometimes the service infrastructure is not. Here in Cabo the truth is that you have outstanding waves together with great service and the hotel infrastructure is without comparison ... "
The warm sun, good food, white sand beaches but above all the atmosphere created by the extraordinary followers of the sport left, for the fifth time, a true feeling of satisfaction on competitors, guests, sponsors and local families who praised the hi level of skills displayed this year at Costa Azul beach or better known as simply…Zippers.
Che Allan, Junior Men's First Place: "... It's incredible, I came here last year, last season and now I'm back this season and it is amazing. I'm very happy and would like to come back to this nice place every yea, it's definitely A Great Place to Surf. Tournament organization was good and the competition, it was very good ..."
The main sponsor for this year's event the Los Cabos Tourist Trust's Director Rodrigo Esponda commented:
Rodrigo Esponda, Director FITURCA: "... It's been a historic day, the waves have been better today than during the previous five years and thanks to this the weeks competition has been very strong between the different participants and this raised the level and quality of the competition. The weather was wonderful. Surfing is an element that represents the heart of this destination Los Cabos ... "
As in previous years media coverage is worldwide, yet this year's exposure has been positively impressive since all five competitive surf days were transmitted live to millions of surf fans from around the globe, coverage also featured scenes of Los Cabos surrounding natural attractions and wonders, all major ingredients that form this exceptional Pacific brim tourist destination in Mexico.
With information provided by Armando Figaredo, I'm Tony Perez for Cabo News …Today.