All set for Los Cabos Open of Surf 2014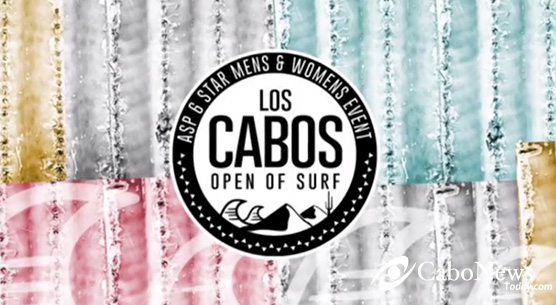 The well-known beach "Costa Azul" will host for the second time the surfing tournament "Los Cabos Open of Surfing" from June 16 to 22, with the participation of 235 professional surfers which includes women's and men's divisions.

This morning's press conference was composed of the main organizers of this super event. They shared important details of the logistics of the events and of the professional athletes who will participate, as well as details of the prizes.
Some of the main organizers and supporters who attended the press conference

* Ruben Reachi, Director of Tourism for Baja California Sur
* Eduardo Segura, director of the Los Cabos Tourism Trust, FITURCA, one of the main sponsors of the event
* Renato Mendonca, president of the Hotel Association of Los Cabos
* Ernesto Coppel, an important hotelier in the area.

Abelardo Juarez, director of Boardwalk Productions, informed Cabovisión that the athletes who have confirmed their participation are: "Josh Kerr who is number seven worldwide, Dion Atkinson, Anastasia Ashley, Coco Ho, who is one of the leading competitors to win the title. Malia Manuel is another well-known athlete as well."

Last year, the American Dillon Perillo won the ASP 6-Star Los Cabos Open of Surf. This year apart from the best male surfers in the world, women will also compete. This year there will see the presence of international media and the most influential websites in this sport who will transmit this 6-star event, live. This will allow a worldwide exposure reaching out to 8 million viewers in United States.

Transmissions of this competition will be through the event and the website is:
www.aspworldtour.com
Director of Tourism Rubén Reachi stated the importance of projecting Los Cabos in an untraditional way and this event is a fun way to promote the destinationRubén Reachi: "Los Cabos is an extraordinary place; every day we are striving to position Los Cabos as the best destination, and to have a big waiting list to participate in such event, it speaks for itself. There is an appetite of the international
surf community to be here in Los Cabos and to really enjoy the event."

This event will not only be enjoyed in watching the competitions but also they will have different activities that will take place on the beach, including the Latin Grammy-winning Venezuelan funk/dance group 'Los Amigos Invisibles' who will put on a concert on the beach.