Los Cabos Open of Surf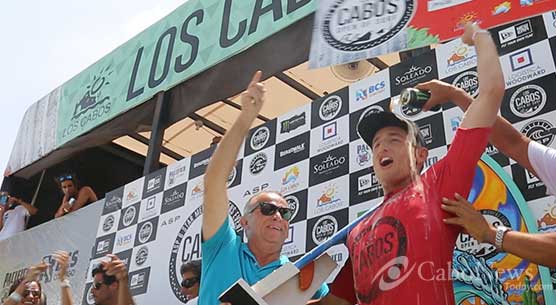 The Association of Surfing Professionals (ASP) 6-Star Los Cabos Open of Surf hosted 144 men and 60 women at Zippers in Los Cabos, Mexico from June 16 through 22, 2014 and back-to-back swells delivered favorable conditions throughout the event window.
The largest surfing event in Mexican history represents a crucial stop on the ASP Qualification Series (QS). The Los Cabos Open of Surf is the last of three 6-Star events for the Men's season and the fourth of seven on the women's calendar.
Australian Matt Banting won in his in category. Coco Ho won in the women's division.

"The highest level of surfers that could participate in a six-star tournament where 144 men and 60 women .... Not including over 90 contestants that we were here because they were on a waiting list and waiting for an opportunity for a cancellation.

"... We had 250 to 270 professional's surfers ... With 22 from Australia, Hawaii and South Africa. From South America we had Chile, Peru, and a lot of representation as always from Brazil. Japan continues to grow, we had eight ..."

He also stated that for national surfers to participate is still difficult because they require sponsorship for these events.
$ 195.000 U.S. dollars was the total amount of prize money, of which $ 155,000 were distributed in the men's' division and $ 40,000 in the women's division.

The tournament was broadcasted worldwide every day through www.loscabosopenofsurf.com also national and international specialized media coverage.

Later a great music concert was held on the beach with the well know performer of Natalia Lafourcade who sang along with "Los Amigos Invisibles" Some other bands played as well. Rock, and funk reggae mainly.