Jet Surf has arrived in Los Cabos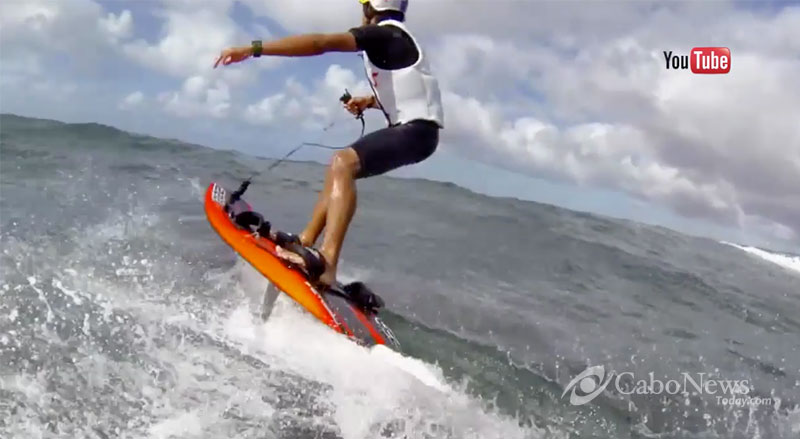 Now in Los Cabos the new concept of surfing even without waves!
From Cancun where it is already practiced successfully has now arrived to the beaches of Los Cabos this new way of surfing without waves.
Bite. Mark Shtern, Promotor: "... it's a motorized surf board...they are very thin handmade tables, made of carbon fiber, weighs 13 kilos. This means you can travel with it , wherever, whenever and can board the airplane..."
This board has been around since the 50s but the weight of the board was too heavy with the motor.
Mark comented in regards of pollution and engeneering of this board:
Bite. Mark Shtern promoter: "...its a gasoline engine...and it pollutes 8 times less than a wave runner....The duration of a running tank is exactly one hour "
It may even be used by children from 10 years of age to people over 70 years old.
In learning the promoter Shtern said:
Bite. Mark Shtern promoter: "... it is very important to know that there is a learning curve, they will never be on the beach, because you have to treat it with great respect. Always it is going to be a class with a private instructor ... "
As for the costs Mark Shtern, pointed out:
Bite. Shtern:"the board cost USD $15,000 and the classes will cost between 100 and 150 dollars."
José Luis Ramos: "I took a class and it was amazing..
Alberto de la Torre: "... .Any person with some athletic ability will be standing on their first try. You must try it ..."
- AFC: How quickly do the students learn?
- Or Yanai, Instructor: "On their first class."