The Todos Santos Music Festival 2014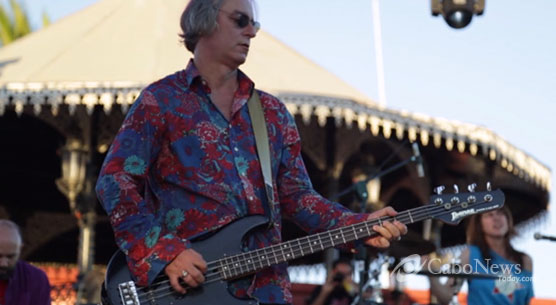 The Todos Santos Music Festival, with its picturesque and intimate setting, philanthropic spirit, and collaborative sets has become a magnet for an eclectic group of musicians. The Festival celebrates the deep cultural roots of the town of Todos Santos. The festival is just a natural extension of the unique artistic vibe of Todos Santos. It is intimate, eclectic and multicultural.
"We are fortunate to have such great musicians willing to donate their time in giving back to this special community," said Peter Buck.
Guitarist and founding member of REM, Peter Buck was in the process of making Todos Santos, in Baja California Sur, a south-of-the-border second home. The idea for the first Todos Santos Music Festival was born in September of 2011, and took place in January 2012.
Alejandro Blanco, organizer and owner of The Hotel Caliornia: "This is a great event. It's important to express how the Todos Santos Music Festival comes together. Hotel California is one of the first hotels in the area; we always have been interested in promoting art, music, and cultural events in general to help promote Todos Santos. It's important to have these types of events here because it helps all of the local businesses."
Blanco also said: "This year it's very important because we have John Paul Jones, member and founder of the legendary Led Zeppelin rock group."
This year's bands include Peter Buck's own band, The Minus 5, headed by Scott McCaughey and featuring Peter Buck, and Steve Wynn's Dream Syndicate, known as the saviors of alternative rock.
New to the festival this year will be Ed Kowalczyk, the former lead singer of the popular recording group Live with his new band.
Steve Wynn from Dream Syndicate: "This is my third time at the Todos Santos Music Festival. Every time it's great but this year it's been the best by far. I want to come back every year."
Danni Amis from the rock n roll group Straitjackets: "This is my first time in Todos Santos. I drove down from LA with my dog. It's been a lot of fun!"
The 2014 festival also featured for the first time a local music showcase featuring the best up-and-coming talent in the Southern Baja.
The proceeds from this year's festival will again benefit The Palapa Society of Todos Santos, A.C., who will distribute a portion of the proceeds to other Todos Santos charities including Escuela Pacifica, a non-profit school for first through sixth graders; Hogar del Niño, a non-profit home for mistreated and orphaned children; Albergue Escolar, a boarding school for local ranch children; DIF Municipal, a support organization for families; ProPlayas A.C., an organization providing lifeguard training and beach safety; Amigos de los Animales de Todos Santos, an animal shelter facility; and the local fire department.
Todos Santos Music Festival was presented by Hotel California and Vaso Loco. Thanks to the Secretary of Tourism for the State of Baja California Sur, and the Los Cabos and La Paz Hotel associations.