Safari Voyager offers new expedition in the Sea of Cortes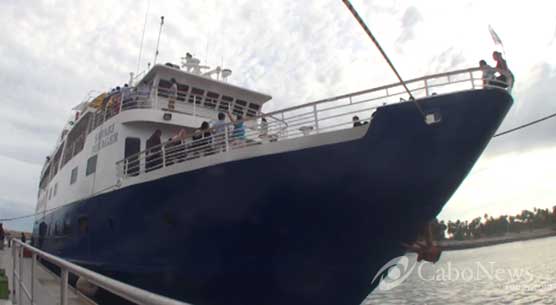 The Safari Voyager is a 175-foot vessel that offers a luxury option for travelers to experience Baja up close and on the water.
Safari Voyager offers there guests breathtaking views from four public decks and a window-lined lounge offering an uncompromised 270-degree view withcomfortable seating for all 64 guests and a full-service bar and deck seating. Other features of the yacht include an elegant dining room and a new library on the Cabin Deck featuring 8 floor-to-ceiling windows, plush furniture and nautical decor. The Sun Deck will be transformed into a new al fresco public space with fitness equipment and lounge chairs. A massage room will also be added.
Safari Voyager carries a fleet of zodiacs, capable of launching at a moment's notice to view wildlife and to make remote landings. Stable and easy-to-handle kayaks and a complete range of snorkeling gear are also on board for adventurous passengers. A swim step platform on the stern is a convenient place to access the water for included adventure activities such as snorkeling, skiff excursions, kayaking and stand-up paddle boarding.
33 generously-sized staterooms, including four suites and two single staterooms, feature wide panoramic windows; individually controlled air conditioning; generous storage and closet space; and large private bath with shower. All Safari Voyager cabins are above the waterline with large picture windows.