Responding to travel warning, Los Cabos unveils security plan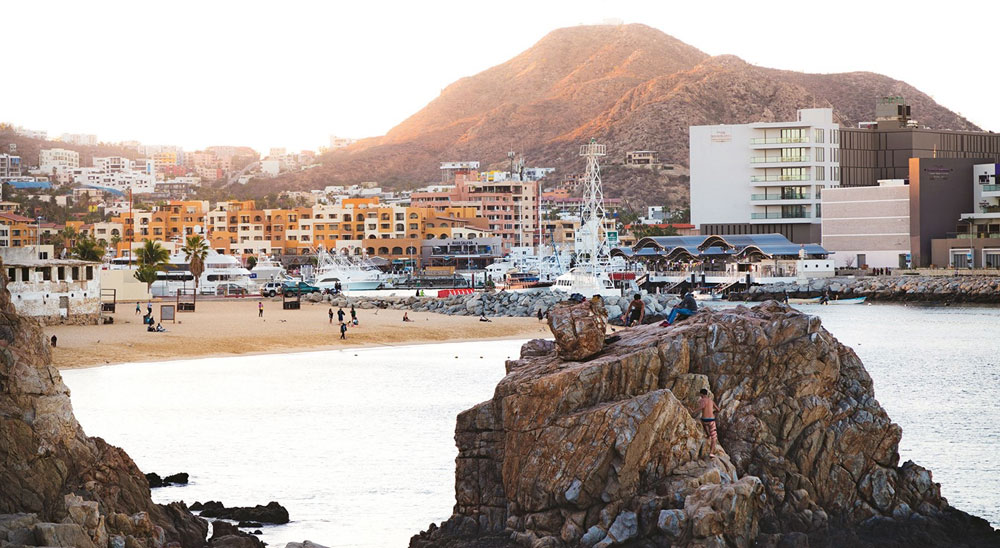 By Arnie Weissmann / October 01, 2017
Los Cabos, long immune to negative reports about drug violence in Mexico, made an appearance for the first time in a U.S. State Department travel warning in August.
The destination's response has been swift, aggressive and multipronged.
The popular resort area at the tip of the Baja Peninsula has seen tremendous expansion in terms of both tourism and population, each of which has grown at an annual rate of 20% over the past five years, according to Rodrigo Esponda, CEO of the Los Cabos Tourism Board.
A steady beat of announcements has been issued about the development of new luxury properties. Mexican luxury brands, including Le Blanc and Grand Velas, contributed more than 880 rooms to inventory this year, and next year will see the debuts of Montage, Park Hyatt, Nobu, Ritz-Carlton Reserve and Four Seasons among 15 properties that will add 3,757 rooms. A Hard Rock, near a new convention center that is also scheduled to open next year, will account for 600 of those rooms.
But along with the rising population that accompanied all the tourism growth came attendant social problems. Drug-related violence resulted in a shootout near the entrance of a beach, and there were other signs of gang activity, as well. This not only triggered the State Department warning but resulted in unflattering portrayals in media, including a prominent article in the New York Times.
The Los Cabos Tourism Board itself is in many ways unusual for a Mexican destination marketing organization. It is funded by a 3% local hotel tax, and its five-person board (with a three-person majority reserved for the business community) is unburdened by bureaucracy. Decisions can be implemented quickly, Esponda said.
And the greater business community is also willing to put additional money on the table to protect its interests, he said. It, along with public authorities, have ponied up $47 million to create a rapid-response program to deal with the negative incidents and reporting.
Working together, public and private interests created a multipronged security plan to address issues, reassure tourists and communicate progress to U.S. authorities in hopes of getting the warning lifted.
In the first stage, a rapid communications network was established among private tourist interests and authorities so that information on developing issues could be conveyed quickly. It was already tested by Hurricane Norma in mid-September and was used to share information about debris on roads that needed to be cleaned, areas needing repair and to report on flight delays so that guests could wait in the comfort of their properties rather than at the airport.
Second, a security plan was developed. A camera surveillance system is being expanded from 50 cameras to 250. It will connect to both law enforcement authorities and private security services, and eventually it will also feed into a new $7 million headquarters for the Mexico Marines, built on land acquired by, and being constructed by, the private sector, which had lobbied hard to attract the new HQ.
Additionally, representatives of hotels, timeshares and developers will be meeting every two weeks to evaluate any developments, and security teams from hotels will meet with public officials twice a week to share information.
Third, hotels will adopt the protocols of the U.S.-based Overseas Security Advisory Council, a bureau within the State Department that provides security recommendations for diplomats.
"Tourism accounts for 90% of the Los Cabos economy," Esponda said. "Security is a priority. Without tourism, there would be nothing."
The opening of the convention center early next year adds pressures. The tourism chief said that overall growth this year is still at 20%, with revenue per available room up 17.4% January through July and average daily rate (ADR) at $300.
"Our strategy depends on high ADRs," Esponda said. "We'd rather have 70% occupancy where we are than 95% with a lower ADR."
Despite sustained business, the warnings and articles that came out during the winter sales season have shaken the tourism community.
"We're very concerned," Esponda said. "We have to stay on top of things."
Part of the tourism strategy includes trade outreach, with a team of trainers visiting tour operators and travel agents. Following allegations in the Milwaukee Journal Sentinel about travelers encountering a wide variety of problems at Mexican resorts, Esponda sent a team to Milwaukee for two weeks to answer questions from agents and provide information on the destination.
The day before a press breakfast in New York last week, he had returned from World Routes, a global aviation conference in Barcelona, and announced to reporters that Milwaukee will begin regional service to Cabo this winter, a joint effort supported by Frontier Airlines and Apple Vacations.
In all, the destination has seen a 20% growth in airline seats in the last year, with Southwest expanding the number of arrivals and United adding capacity.
"We're working on Philadelphia and New York," Esponda said.
Asked whether any hotel companies in the pipeline (or being courted) wavered in the face of the travel warning and news reports, Esponda said no.
"Some owners have been here for 30 years," he said. "If you're investing $200 million in a hotel, you've got a long-term vision. You're not looking at headlines."
The tourism board convened a meeting with tour operators over the summer to let them know what it was planning and to brainstorm on a possible consumer campaign. The plan, with the theme "Los Cabos Today," could be launched as soon as November, though Esponda wants to see signs of a reputational turnaround before committing.
Esponda said the tourism community is not ignoring the social issues that might be the root of violence. The hotel, timeshare and development associations, along with the tourist board and government agencies, are working on an urban development plan to increase the number of schools and other social services.
The board also realizes it needs to step up its corporate social responsibility, Esponda said. "There are things we need to do better," he acknowledged. But he also noted that with a 19% poverty rate, Los Cabos already has an advantage over other destinations, given that 40% of Mexico's overall population lives in poverty.
Tourism, he asserted, is uniquely positioned to help, because unlike a factory job, there is the real possibility of upward mobility in tourism.
Esponda admitted he has been a bit frustrated by the reporting on Los Cabos.
"I can go to New York looking for horrible stories and find them," he said. "And in the next sentence, I can say how much it costs to stay in a luxury Manhattan hotel. We do need to make improvements in areas, but I also believe tourism is a positive element and that Americans will feel welcome and safe here."