San José Jazz Festival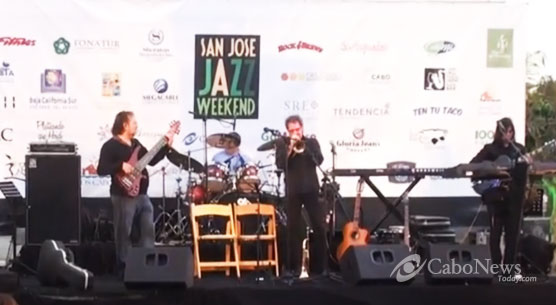 Last Friday, for the third consecutive year, Plaza el Pescador in San Jose del Cabo hosted the San José Jazz Festival. The Festival started at 5 pm and went on til nearly midnight. A great evening was had by all with a wonderful atmosphere accompanied by great music. Some of the most prominent local groups participated, including well-known acts and artists such as Tito Rodriguez and his Jazz Trio, Leopoldo Band Ladron de Guevara; Carmona Kukin Jazz Band; Pa'ax Jazz Trio; and Todos Santos Jazz.
The promoter for Plaza El Pescador and the main organizer of this event, Mario Gardsen, gave a speech and officially inaugurated the Third Jazz Festival. Also in attendance was Enrique Turcott, President of the Hotel Association of Los Cabos and Raoul Choullet, Director of FONATUR in the area.
The event was hosted by Astrid Castañeda and Sabrina Lear was a guest participant. One of the sponsors was De Cortez Restaurant, located at the Hotel Sheraton Hacienda del Mar, represented by its General Manager-Director, Renato Mendonça. The Third San José Jazz Festival gastro-music event was huge success with an extraordinary turnout by local residents, tourists and foreigners who enjoyed a pleasant evening on Friday.