Dance Gala Los Cabos 2014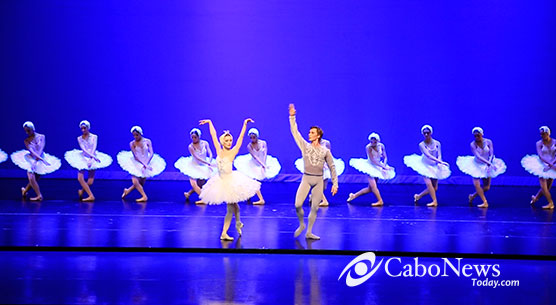 For the second year in a row we had the pleasure to announce and attend The Gala Dance at El Pabellon de la Republica in Cabo San Lucas.
This year we had the exciting premier by "Dancing With the Stars" dancer and Emmy Award-winning choreographer Derek Hough. The piece was created by American Ballet Theatre ballerina Misty Copeland and three International Latin ballroom dancers. It was debuted in New York at the David Koch Theatre at Lincoln Center to rave reviews.
The amazing choreography brought the audience to their feet!
It is with great honor that the world-renowned ballerina Lucia Laccara and Marlon Dino joined us this year to perform two moving pieces, Lady of the Camellias and Three Preludes.
Seven phenomenal young artists from ages 9-19 participated in this year venue. Mariana Carrillo, a young local, made her return to her native country to perform a Dos Pasos created by her director and choreographer Josie Walsh.
Miss Barak, from Barak Ballet, created a special peace just for the Gala de Danza in Los Cabos performance. She loved the idea of having the piece created and debuted in Mexico as a source of inspiration.
Some of Los Cabos favorites are Irina Dvorovenko and Maxim Beloserkovsky who returned from last years Gala and performed Swan Lake Pas de Deux along with students from Danza Téllez. Ms. Dvorovenko and Mr. Beloserkovsky actually flew out personally to stage the ballet and work with the students.
At his young age, Daichi Ikarashi, flew in from Japan to perform on the great stage of the Pabellón to dance with dance legends.
Thanks to last year's event and from this year's revenue they are now able to donate a professional working floor to the studios at Danza Téllez. They invited the students to open rehearsals the week of the Gala and have them interact and work with these famed artists.
For the students of Danza Téllez, they got to mingle, work and dance alongside the greatest artists in the world.
Everyone who attended The Gala Dance enjoyed Beauty, Grace and Talent at its finest.