Taste of Cabo behind the scenes and special interviews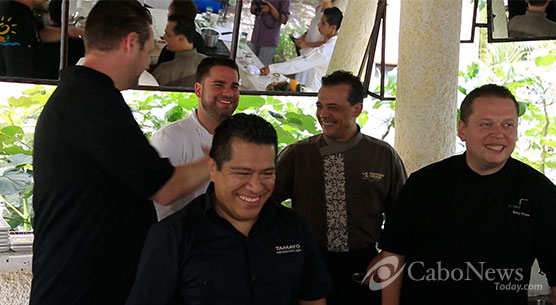 The Corporate chefs are currently working with chefs from Los Cabos to create a very special menu - to be released at Zengo in September. This is going to be an amazing collaboration!
Confirmed to attend are several world-renowned chefs including Federico Zanellato, Chef and Partner of NOMA Restaurant in Denmark, Richard Sandoval, Chef and Restaurateur of over 35 restaurants world-wide, including Pampano and Zengo in New York City, and Dieter Koshina, Owner of Portugal's Vilajoya Restaurant.
It all started at Esperanza, An Auberge Resort, where its Executive chef Gonzalo Cerda, along with Greg Howe, Executive Chef of Restaurantes Richard Sandoval; José Luis Flores, Bakery Chef of Restaurantes Richard Sandoval; and Tadd Chapman, Chef and owner of Don Sanchez Los Cabos, created a dish inspired by Cabo's gastronomy, which will be featured in restaurants Zengo at New York, Santa Monica, Washington DC and Denver from September 15th to December 31st.
This is how "A Taste of Cabo" behind the scenes has finished. Produced by Fideicomiso de Turismo de Los Cabos, which will be broadcasted in Travel Channel, on a special edition of Chef on the Water.