Interview with Edward Norton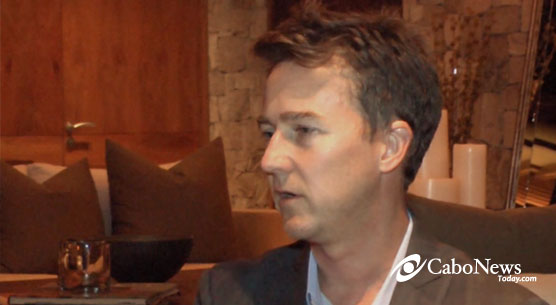 During his visit to Los Cabos to attend the first edition of the Baja Film Festival, film director, actor, producer and screenwriter Edward Norton sat with us for an interview to talk about the festival, Mexico and Mexican movies.
The Oscar nominee and actor in movies such as American Hisotry X, Primal Fear, The Italian Job and The Fight Club (among many other blockbusters) was honored to be one of the guest advisors to the Baja Film Festival and spoke about how an excellent place Los Cabos is to hold the event. Having been a long time visitor to Mexico (which includes participating in the movie Frida as an actor and screenwriter), Norton acknowledges the potential and quality of talent in the Mexican film industry and claims for more exposure, both nationally and worldwide, of their productions thru festivals like the Baja Film Festival.
Edward Norton also highlighted the importance of developing further the production of documentaries aimed to the conservation and preservation of the environment, an area within the industry which he considers is lacking a bit of attention.