50 years of the Love Boat in CSL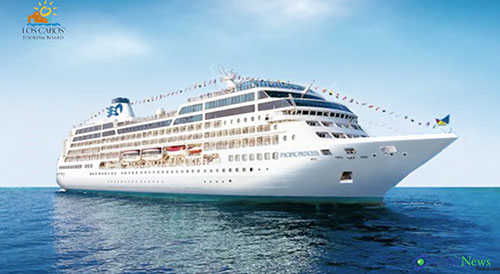 Celebrating fifty years of his first journey to Mexico, arrived in the port of Cabo San Lucas cruise Pacific Princess of the prestigious and legendary Princess Cruise Lines.
This emblamatic cruise ship during the 1970s served as a stage for the realization of the famous television series "The Love Boat".
On this tour was attended by actor Gabin MacLeod who incarnated to Captain Merrill Stübing in series.
Sammy Connynbaker, Cruise Director: "its a very special occasion to be part of this 50th anniversary and return to all ports that Princess Cruise Line began to arrive for 50 years and I have had the opportunity to enjoy them."
Ashore, for several decades, the Tropical Tours company is responsible for attending the cruisers that descend to meet the port.
Ricardo Irvine, Tropical Tours:... "started with a rented boat, a fleteado ship that was a ferry which the founder of the company Princess Cruises, Stan McDonald operated to Canada and Alaska in the summer... fleteó that boat in the winter and made cruises, began Charly 50 years ago in these dates and happened to be in the dock in Mazatlan with Mr McDonald when he arrived the first arrival of this boat 50 years ago."
Ricardo Irvine, Tropical Tours: "more or less fourty five years attending tours for all shipping lines, is an a large, popular destination very quiet, pleasant, many things to do..."
Gabin MacLeod, Actor: "I received a call from producer Aaron Spelling told me what I wanted to do, genuine I was Captain, my wife read it and told me that it could be a success and I just said okay, sere captain, critics said that it would only last two weeks, began in 1977 and still it Treasury so far"
Among the famous who took part in the series are:
Tom Hanks, Ursula Andress, Robert Vaughn, Joan Collins, Mickey Rooney, Gina Lollobrigida, In addition to artists like Andy Warhol, musicians such as Frankie Avalon, Janet Jackson or groups such as The Temptations, Menudo and Village People and many other personalities.
The TV series was crucial to promote nautical tourism in these large floating hotels making this style of travel in a multi-billion dollar industry that currently has more than 200 luxury cruises that sail around the globe.