Last Day of 2014 in Los Cabos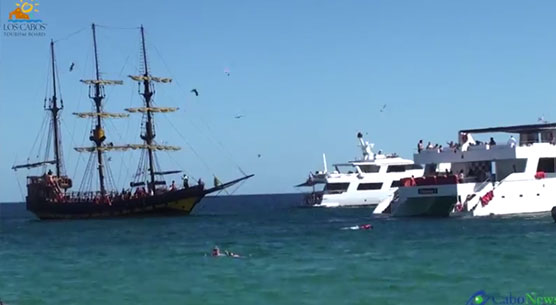 From the tourist corridor and beaches with the traditional Medano Beach facing the bay of Cabo San Lucas, you can watch the cruise ships, stand up paddle, jet skis, water bananas and other vessels circulate everywhere while others enjoy diving or snorkeling.
Keith Campbell, Colorado: "we enjoy coming to Chileno Beach and Santa María because of the snorkeling."
Strong activity was also reported at the 15 different golf courses of Los Cabos as well as adventure parks where there are zip lines, bungie jumping, and bike roads are all ideal for adrenaline lovers.
The nightlife is no exception as people prepare for nighttime partying on the beach.
Rebeca Pellicer, Mexico City: "the 31st we'll enjoy dinner, a few drinks and come here to the beach because there will be fireworks."
Veronica Castaneda, tourist: "so beautiful that I might move my office here!"
There are already 72 national and international flights that have been regularized that have revived the economy in hotels, restaurants, shops and tourist services at the start of the high season.
Just three and half months after Hurricane Odile, Los Cabos recorded an occupancy rate of 100% in 70% of the hotels in inventory and are already operating.